Almaty: Transparency and Corruption Risks in the Urban Environment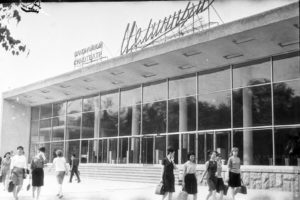 Tselinniy back in the day. Photo Credit: Central State Archive of Film and Photo Documents and Audio Recordings of the Republic of Kazakhstan.
By Caroline Elkin, a Program Assistant with CIPE's Europe and Eurasia Team
Last week, a court in Almaty, Kazakhstan sentenced the city's former akim (mayor or governor) Viktor Khrapunov, his wife, stepson, and others on a litany of corruption charges, including fraud, bribe-taking, abuse of power, and illegal privatization of swathes of city property that netted the Khrapunovs $300 million. They also face lawsuits in the U.S. and U.K.
Almaty is in much better hands today than twenty years ago. Bauyrzhan Baibek, akim since August 2015, has poured resources into urban improvements such as pedestrian streets and bike lanes. In keeping with the 100 Concrete Steps program, which outlines Kazakhstan's reform program in areas such as creating a transparent and accountable state, Almaty launched an online service center and is developing an open data resource. There is even an Instagram page where the akimat (city government) responds to citizen complaints about potholes and broken streetlights.
Even so, corruption remains a challenge. Kazakhstan's score on the Corruption Perceptions Index inched up this year — from 29 to 31, remaining in the bottom quartile of countries. As for Almaty, recent surveys by Atameken, the government's chamber of entrepreneurs, pointed to increases in both the frequency of corruption and the size of bribes in the city.
As Transparency International points out, corruption in the urban environment – including illegal privatization, misuse of property to secure political patronage, procurement, and urban planning – is an important but under-studied phenomenon in anti-corruption efforts worldwide. As Almaty works to position itself as a modern and open city, it must take further steps to increase transparency and create safeguards against corruption risks that could undermine its development.
A story of movie theaters, McDonald's, and modern cultural spaces illustrates how such safeguards would benefit all involved, even when the situation appears more or less aboveboard.
In 2014, a company owned by Kairat Boranbaev, one of Kazakhstan's richest men and a relative of President Nazarbayev by marriage, bought up at least three abandoned movie theaters in prime locations around Almaty (the theaters, privately owned since the late 1990s, had become unprofitable and were bank-owned). That year he also signed an agreement to open the first McDonald's in Kazakhstan.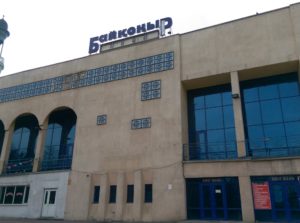 An abandoned movie theater in 2015. Photo Credit: Caroline Elkin
Nothing much was made of this coincidence until autumn 2015, when the urban planning council approved plans to demolish a theater downtown and build a McDonald's on its place. A brief outcry from those who wanted to preserve a historical building was ineffective. A year later, demolition of a second theater in a residential neighborhood began, and the outcry returned. This time, the relevant department had not given the appropriate approvals beforehand, but with fines for illegal demolition less than $2,000, noncompliance was cheap. Today, McDonald's stand on both locations.
The third theater, Tselinniy, also had fallen into disrepair. Many — for Tselinniy had been the largest and most well-known of Almaty's theaters — feared it would meet the same fate. Yet in 2016, after the outcry over the first McDonald's, reports emerged that the company would rebuild Tselinniy as a cinema, museum, or other cultural center, eventually giving the property back to the city per an agreement already signed with the akimat.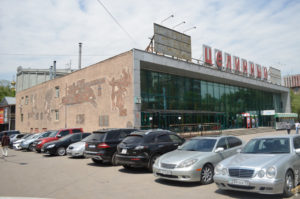 Tselinniy in its abandoned state. Photo Credit: http://www.voxpopuli.kz/history/2020-starye-kinoteatry-alma-aty.html
A pop-up gallery opened in the existing theater in September 2018; in November, it will close for a two-year reconstruction. At the pop-up's opening, Baibek and Boranbaev billed the space as Almaty's first Western-style private cultural center, a sort of corporate citizenship directed especially at Almaty's young creative types, from whom the space has earned positive reviews.
Tselinniy's revival is good for Almaty. Cities and countries need wealthy individuals and successful companies to emerge as patrons of the arts and social causes. A philanthropic class that can support museums, sports teams, and social initiatives played an important role in the United States, for example, in the case of Carnegie libraries.
At the same time, more transparency in the decision-making process could have eliminated the impression of opaque interactions between the public and private sectors. Regardless of how aboveboard the process was, Almaty's history of entrenched corruption creates a negative precedent. In a country where corruption charges can serve as an excuse to neutralize political opponents or overly successful businesspeople, making similar decisions more transparent would not only be the right thing to do, but also protect those involved.
For first steps, Almaty could take a look at the OECD's recent integrity scan of Kazakhstan, which recommends that businesses implement safeguards against lobbying and better practices for corporate governance and corporate social responsibility. The akimat could strengthen the independence and oversight function of public councils, a new but weak form of public participation in local government, which would have broader benefits for citizens.
Almaty is fortunate to have forward-thinking government leaders and businesspeople who want to invest in the city's future. These recommendations provide one way for them to address potential corruption risks that could undermine their plans.