Highlighting "Open Contracting for Oil, Gas and Mineral Rights: Shining a Light on Good Practice"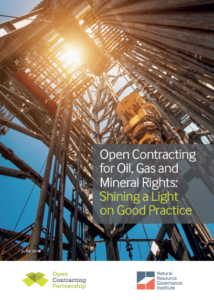 Photo Credit: Open Contracting Partnership and the Natural Resource Governance Institute
By Peter Glover, an Assistant Program Officer with CIPE's Anti-Corruption and Governance Center
The Open Contracting Partnership and the Natural Resource Governance Institute jointly released a report called "Open Contracting for Oil, Gas, and Mineral Rights: Shining a Light on Good Practice." The report is the result of collaborative research on good practices that governments can use to make the allocation and management of oil, gas, and mineral rights more transparent. The report finds that although deals in the oil, gas, and mining sectors amount to billions of dollars over decades, there is little systematic guidance for ensuring transparency in those deals and the processes around them.
Many of the report's examples of good practices are pulled from OECD countries, but there are also examples from emerging markets like Lebanon, Sierra Leone, and the Philippines. Sierra Leone, for example, discloses the exploration and exploitation contracts between it and industry.
The report digs deep by breaking down the allocation and management process into five categories:
Explaining the system and the actors involved;
Planning;
Allocation & award;
The contract itself; and
Implementation
These categories are broken into 16 total areas of good practice each with its own practical examples and discussion. The report even includes an easy-to-follow poster that gives the key highlights on each area of good practices.
Taken together these areas of best practice act as an exceedingly clear and sequential road map for how to bring transparency into the process of allocating and managing oil, gas, and mining rights. Doing so can help countries foster industry engagement, competition, and civic trust.