Podcast: Future of Global Anti-Corruption Efforts in View of Pres. Biden's Memo, with John Arvanitis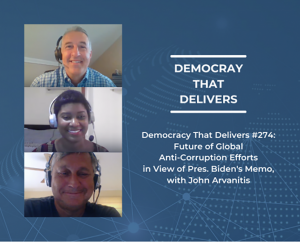 On this episode of Democracy that Delivers, our host Ken Jaques brings fan favorites CIPE Africa Senior Program Officer Lola Adekanye and Kroll Compliance Risk and Diligence Managing Director John Arvanitis back together to continue their fascinating risk and compliance discussion from Episode #269.
This time, they discuss President Biden's Memorandum on Establishing the Fight Against Corruption as a Core United States National Security Interest, particularly its commitment to greater cooperation and accountability between governments, businesses, and civil society in the global implementation of rule of law. Check out highlights from the podcast below and listen to the full episode here.
---
Ken Jaques: For our listeners who aren't familiar with the topic, I think it'd be best if you give a brief overview of what the [Biden Administration's June 3rd National Security memorandum] is and what it's trying to accomplish.
John Arvanitis: Sure, Ken. What I think is important to recognize is that this document reflects the Biden administration's commitment to anti-corruption around the world. And the fact that the administration has made it a pillar of their strategy speaks volumes.
It really serves to recognize that criminal justice is not the only area that can ensure corruption doesn't impact quality of life and rule of law across the world––now, raising it to the national security level instills hopefully a whole of government approach that will entail agencies of the United States government putting forward a strategic perspective of how to conduct, execute and ultimately bring to justice in a court of law those that seek to use corruption as a springboard for illicit activity throughout the world.
Ken Jaques: From your personal perspective, where would you like to see this go 200 days out? What are the things that need to be addressed?
John Arvanitis: I think that this, as an initial point of reference, will directly message to individuals and entities the need for accountability, transparency, and collaboration that's public and private in nature. And of course, communication within an organization.
From a US perspective, the Foreign Corrupt Practices Act has been around for almost 50 years. This is going to generate discussion and hopefully action around modernizing the FCPA. It's going to hopefully provide enhanced resources to fight corruption, not only in the United States but abroad through the law enforcement relationship the US government has with nations around the world.
It's going to ensure accountability and ultimately the strengthening of international partnerships and assistance. And I think that at a very, very high level with all of these tools, we're going to see more and more corruption matters come forward not just in the United States but around the world.
We're going to see cross border coordination through the dialogue between law enforcement and governments. And hopefully we're going to see assets brought back to rightful owners that may have been laundered or stolen. The last point that I want to make on this issue is that the memorandum seeks input from the government's most senior leadership. That shows the commitment of the administration and it calls for a whole of government approach. So everyone's going to weigh in and there's going to be a unified strategy put forward by the administration under its guidance.
Ken Jaques: Lola, why is this important? We just did an event with Senator Cardin on Capitol Hill just a few weeks ago on the CROOK act.
Lola Adekanye: Africa is one of those regions where it's been estimated that almost three times the GDP of the combined countries on the continent gets lost to corruption. And for CIPE, this is critical. Just in the last two, three years alone, about 32 countries have seen protests fueled by outrage against corruption.
In about 12 of the 24 African countries we work with, we have very active anti-corruption projects. And because CIPE's approach to strengthening democratic institutions in countries is through supporting the private sector and getting the private sector to be more productive and more engaged in dialogue about policies, our natural allies are the private sector organizations, and representative organizations.
Each time we've tried to help the private sector articulate its policy priorities and major challenges with the governance and economic situations in their country, [and] corruption is always one of the top three challenges. And it takes more than just the private sector to address corruption problems in these countries. It takes the government, civil society, and the media. And in many of the countries on the continent where democratic institutions are weak, the civil society and the media are often easily corrupted.
So this memo and its outcomes––which [includes] the CROOK Act [and] inter-agency coordination to tackle corruption––is very exciting to us in the anti-corruption community globally and on the continent because there are so many parts of it that are game-changers.
One example of a game-changer in the CROOK act is the fact that there is now going to be some level of consideration for deterrence against public officials extorting or demanding bribes of companies. That's always been a major challenge, especially for local companies, smaller companies that don't have the might of a large corporation and the brand reputation of a globally represented US company to resist paying a bribe. So that's big for me.
Ken Jaques: Average citizens don't understand the impact that corruption has on their individual lives. Why should the average American embrace what this memo is trying to accomplish?
John Arvanitis: I think there are two key points to what you mentioned. It's not just about communication, but it's also about education––and through education is where society in of itself will have buy-in relative to this issue.
I compare educating society back to my days when I was there early in the [Drug Enforcement Agency], and we had the Just Say No to Drugs campaign. As you saw public messaging occur via media outlets, television, and radio, people bought in. They realized that this is wrong, that this is illegal, and that it's adversely impacting them and the quality of lives that they may lead.
And I think that through both communication and education, through governmental channels and private channels, collectively, we can put forward a great strategy to reduce corruption around the world. And again, as I said and as many in government say, bring to justice those that are conducting illicit activity and promote rule of law, not only in this country, but abroad through all of the stakeholders that we referenced.
Lola Adekanye: I just want to add that I agree completely that when anti-corruption reforms start getting implemented, we often forget the importance of education and awareness and sensitization, as you said, John, and we see that as a problem when we start training companies.
In this particular case, we were doing a workshop for the new members of parliament of a country that recently at the time had a democratic opening. They toppled the dictator of almost 29 years. They elected the first parliament, where more than 90% of the members who were elected had never been in parliament before, which had not happened in many years in that country. So we needed to do an orientation for the parliament and when we were training about anti-corruption, we saw this as a situation where a lot of times companies or individuals don't recognize practices as corrupt––practices that are outrightly corrupt, and that's especially true where there has been a long standing problem of corruption or systemic problem of corruption.
A specific example from this workshop with members of parliament is where a member of parliament would say to us, for instance, that when we get our allocations, we have to settle in courts the folks who voted for us; otherwise, they would not vote for us next time. They don't see that this is a problem. So you're starting from that level of awareness, raising sensitization to show that there has to be more training and enlightenment for new members of parliament in that country. If they've operated in a corrupt system for a long time, a new reform in anti-corruption law would not change how they operate because they cannot connect with those reforms.
…At the high level, we may get it right by crafting the reforms and the laws, but then at implementation, we may struggle if we're not thinking very critically about sensitization and education even before the reforms happen.