Turning Pledge into Action: Lessons in Collective Action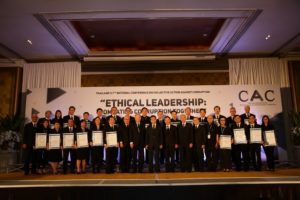 Photo Credit: Thailand's Private Sector Collective Action Coalition against Corruption
Collective action is a common method adopted by the private sector for anti-corruption initiatives around the world. It behooves companies to join together as a group that refuses to pay bribes. Uniting companies in the same industry and gathering key players in the larger business community can make collective action campaigns even stronger.
It is not an easy task to convince the private sector to join forces to push back against public officials and drive change. Thailand's Private Sector Collective Action Coalition against Corruption (CAC) has attracted as many as 881 companies to sign up for the initiative, including 416 listed companies that control over 80% of the Thai bourse's market capitalization.
Founded with crucial CIPE financial support and expertise in 2010 by eight prominent business organizations, the CAC is set up to become a main platform for companies in Thailand to take part in tackling corruption through collective action. To ensure that members put effective anti-corruption policies and mechanisms in place, the CAC designed a certification process that requires companies to complete a self-evaluation tool. This 71-item checklist enables companies to appraise the strength, completeness, and effectiveness of their anti-bribery policies and procedures. It is a shortened version of the more thorough 241-item checklist developed by Transparency International (TI). The modified checklist is meant to pave the way for Thai companies to start employing good governance practices and prepare them for stricter international, anti-corruption standards.
A key element that helped facilitate the broad CIPE-backed expansion of the Thai coalition was the gradual pace of the certification process strengthening. The program kicked off with requirements that were relatively easy to comply with while slowly requiring stricter processes bit by bit over time. In the early stages of development, the certification process relied mainly on an honor-based system and the approval decision hinged largely on the pledge of the company and verification by either an audit committee or external auditor.
As the number of signatory companies continued to grow – from a mere 27 at the beginning of 2010 to several hundreds today, CAC introduced a more robust certification process that included e-documentation and incident management procedures as well as a fixed 18-month timeline for companies to achieve certification. It also required companies to submit applications for re-certification every three years.
To help CAC vet applicants' qualifications and reputations, a Certification Committee was established. The committee consists of experts in business law, corporate governance, internal audit, financial audit, and experienced representatives from current certified members. It systematically probes the applications to ensure companies provide adequate information and evidence that warrants certification. The self-certification and review process create a sustainable model that builds a sense of ownership and commitment among coalition members.
Out of the total 881 signatory companies, 314 have been certified for having put in place the required anti-corruption policies and high compliance standards. As companies are certified, new incentives arise, peer pressure grows, and more companies seek to join the coalition and achieve certification.
Phisanu Phromchanya is an advisor for Thailand's Private Sector Collective Action Coalition against Corruption