Learn Anti-Corruption. Don't Leave Your Couch.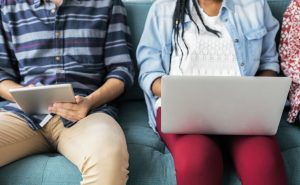 We get it. You're at home, practicing responsible social distance, and casting about for something useful to do. Here's an idea: why not brush up on anti-corruption?
Before you dismiss the topic as irrelevant, consider that 1 out of 10 national governments have been toppled recently by public outrage aimed at corrupt leaders. Or the rising alarm during the past few weeks that government responses to the COVID-19 pandemic could be rife with corruption risks. And did we mention Netflix's new series, Dirty Money?
Newcomers to the anti-corruption world can tell you it can be a confusing place. From head-scratching jargon, fuzzy concepts, and labyrinthine scheming by corrupt actors, every responsible citizen in the world could use a crash course. To make that easy for you, we've found and reviewed four online and completely free anti-corruption training programs to inform interested parties of all experience levels—from amateurs to activists, from mavens to neophytes. Best of all, you can do them all from your couch.
Hosted by U4, this online course provides a concise guide to understanding the basics of anti-corruption in a way that is accessible to all skill levels. The self-paced, hour-long course consists of three main sections: definitions and key concepts, methods of measurement and assessment, and strategies to combat corruption.
Through interactive tools such as a glossary of key terms and the Ask the Expert panel, which gives additional insight to clarify more complicated points, the course ensures participants remain engaged and have resources to answer their questions. Using specific cases of questionable actions, participants are instructed and the tested on their ability to distinguish between cases where corruption is verifiable or merely suspect. These cases use real-life scenarios followed by an in-depth breakdown of each case explaining the necessary elements of corrupt acts that are or are not present. It also provides an in-depth look at attempts to quantify the extent of corruption and aims to identify system shortcomings and factors that allow corruption to continue.
The Transparency International UK online training focuses solely on bribery in the business sector. The interactive experience provided by this course relies heavily on the use of real-life scenarios, such as the Integrity Champion Challenge, to test participants' ability to identify signs of corruption and how to deal with them. The course's concise and focused set of learning objectives ensure that participants will acquire the ability to clearly explain what constitutes bribery, the damage that bribery can do to organizations and society, and recognize how and where bribery risks arise. The training also covers the penalties for individuals who partake in bribery, the various forms that they take, the responsibility of corporations to report integrity concerns, and steps to take in order to avoid and resist demands for bribes.
This United Nations Development Programme course is undoubtedly the most comprehensive of this group. Beginning with an introduction that explores key definitions, different types, root causes, and various symptoms of corruption, participants acquire thorough foundational knowledge of key concepts. The subsequent sections on development and regional, national, and international anti-corruption standards are interactive with short quizzes at the end of each section. These prepare participants for a comprehensive assessment at the end of the program where a passing score of 80% required to complete the course. With the inclusion of additional data, documents, and other resources throughout the course, participants walk away with a solid understanding of anti-corruption and a thorough overview of the United Nations Convention Against Corruption (UNCAC).
Lastly, the Center for International Private Enterprise has its very own Anti-Corruption Compliance Training. This online course is specifically aimed at mid-sized firms in emerging markets and primarily intended for staff tasked with compliance. However, it can also be relevant for board members and managers who want to build effective anti-corruption systems in their companies and capitalize on the opportunities that access to global value chain offers.
The training is interactive and self-paced with quizzes at the end of each module to test one's knowledge acquisition. After successful completion of the course, participants also have the option to obtain a digital certificate of completion for a small fee. At the end of this course, participants will appreciate the importance of anti-corruption compliance for sustainable business success of their companies, have an understanding of international best practices in anti-corruption compliance, and be able to operationalize anti-corruption principles in their companies by introducing or improving a compliance program.