Labor Compliance Anti-Corruption Training Takes Off in Tbilisi, Georgia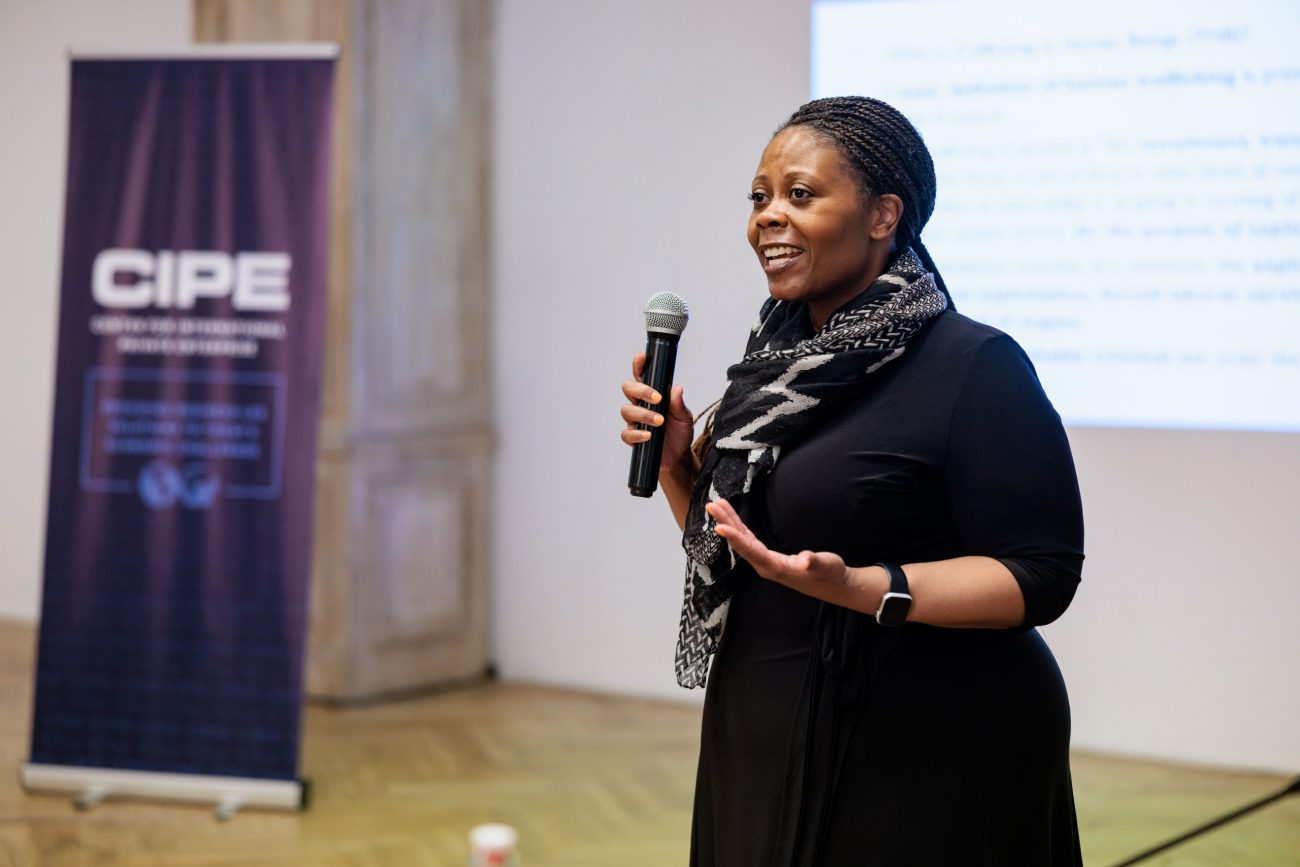 For the past seven years, the government of Georgia has steadily modernized its labor laws in ways that have created openings for anti-corruption work. In April 2022, the Center for International Private Enterprise (CIPE) capitalized on the culmination of these reforms – Georgia's updated labor code, OSH laws, and newly created Labor Inspection Office – by launching an in-country scenario-based training course for business managers and compliance officers.   
Georgia's commitment to fighting corruption has come a long way over the past 20 years. But the private sector was left out of these efforts until just recently. Following the Rose Revolution of 2003, a series of anti-corruption and liberal economic reforms swept the nation. However, institutionalized regulation of the private sector remained nonexistent.    
This started to change in 2015. But progress was slow, at first, with reforms largely focused on occupational safety while ignoring workers' rights.  More meaningful reforms began in 2020 when Georgia's parliament amended the Labor Code and transformed the Labor Conditions Inspection Department into a more independent institution: the Labor Inspection Office, headed by a Chief Labor Inspector. This reform extended the scope of the labor supervisory body from merely occupational health and safety checks to a full range of labor and employment rights.  
A Broader View of Corruption
It isn't immediately obvious to some why changes to labor laws have an impact on corruption. Clearly, government workers taking bribes from business owners in exchange for special licenses or mining concessions is a blatant abuse of power. But companies that violate human rights in their labor practices or perform business operations without regard for environmental impacts are similarly damaging to society and can be considered engaged in corruption as well. Through its novel integrated compliance approach, CIPE rolls these corruption-adjacent or corruption-relevant areas into one program. 
The Anti-Corruption and Governance Center's (ACGC) integrated compliance approach understands that corrupt practices and labor rights abuse, combined with weak governance, can undermine private sector growth. ACGC's integrated compliance training, therefore, aims to improve corporate governance in organizations by promoting corporate due diligence, corporate transparency, and accountability and helping businesses uphold the rights of their workforce under the relevant legislation.   
Equipping Anti-Corruption Trainers
Under the US Department of Labor-funded project, "Engaging Workers and Civil Society to Strengthen Labor Law Enforcement"*, ACCG's ESG Coordinator and Program Officer Michele Crymes facilitated an in-person, scenario-based training course developed by the ACGC for 22 members of the Georgian business community.  
"The integrated compliance approach is unique because it provides a single evaluation and implementation framework for corruption, environment and labor compliance," Crymes said. "This is a more holistic approach to anti-corruption compliance which strengthens the ability of companies in emerging markets seeking to reduce risk, raise ethical standards, and reduce systemic corruption."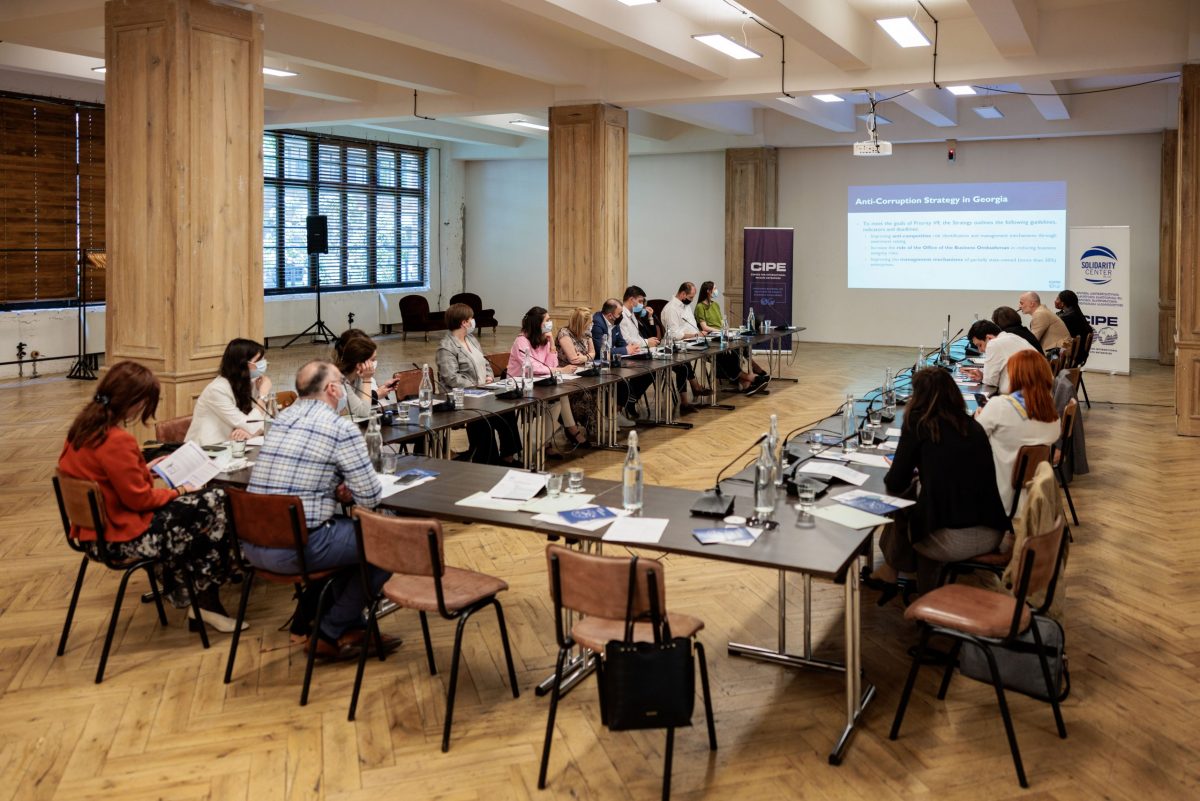 Conducted on April 28, the integrated compliance course was designed to educate the Georgian business community on corruption risks and mitigating those risks while executing Georgia's new labor legislation. Topics covered ranged from forced labor, discrimination, corruption in recruitment and procurement, and a lack of transparency in payment of workers to bribery of public officials.
"The training is an introduction to the concept of integrated compliance and was meant to educate the Georgian business community on the intersection between corruption and labor," said Crymes. "With this training, Georgians are equipped with information that will help increase the effectiveness of its new labor law and prevent corruption from gaining a foothold in labor compliance."
The training provided an interactive educational experience that was customized to the Georgian experience and fit for later use. Participants were divided into groups and given open-ended scenarios and questions to prompt individual explorations about what constitutes corruption, what warning signs should be reported, and what measures should be taken to respond to it.  
The Big Picture
The versatile anti-corruption course provided business executives, HR managers, legal, compliance, and other organizational leaders with the knowhow to train individuals in high-risk positions within their respective organizations, with the goal of identifying and eliminating corrupt labor practices in Georgian businesses. Since the course was designed and delivered in a Training of Trainers (ToT) format, participants of the training were also given an opportunity to apply for CIPE's small grants to educate their colleagues and fellow business representatives on integrated compliance, which aims to help the Georgian private sector become more familiar with ACGC's integrated compliance approach. Training materials such as presentations, training guidance for trainers, and a facilitator's guide were translated into Georgian and shared with trainees.  
Training programs like this, which aim to promote anti-corruption, environmental, and labor compliance, also move Georgia closer to its expressed goal for greater integration with the European Union – a driving factor behind why this reform was passed in the first place. Furthermore, these training programs are key to CIPE's commitment to creating engaging, norm-changing anti-corruption programs and encouraging local business communities to respond swiftly to new laws and reforms that create openings to combat corruption.  
---
*Note: Funding for this project is provided by the United States Department of Labor under cooperative agreement number IL-32531-18-75 K, through a sub-award from the Solidarity Center. 100% of the total costs of the project or program is financed with federal funds, for a total of $580,000. This material does not necessarily reflect the views or policies of the United States Department of Labor, nor does mention of trade names, commercial products, or organizations imply endorsement by the United States Government.