Introducing Anti-Corruption Principles for Business Associations and Chambers of Commerce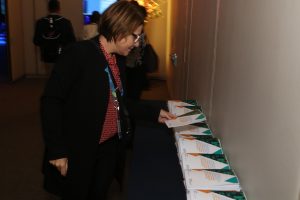 Photo credit: CACB
With the passage of the United Nations Convention Against Corruption and enforcement of laws such as the U.S. Foreign Corrupt Practices Act or the UK Bribery Act, doing business with integrity has become an expectation placed on global companies wherever they operate. Chambers of commerce and business associations are therefore increasingly called on to be advocates and guides for their members on best practices in anti-corruption compliance. To effectively play that role, they need to demonstrate their own understanding of corruption risks and a commitment to addressing them.
To that end, last month in Rio de Janeiro, Brazil at the World Chambers Congress, the Center for International Private Enterprise (CIPE) and International Chamber of Commerce World Chambers Federation (ICC WCF) launched the Anti-Corruption Principles for Business Associations and Chambers of Commerce to assist business organizations around the globe with preventing, detecting, and mitigating corruption risks.
The business community plays a critical role in the fight against corruption by creating an environment intolerant of bribery and illicit activity. CIPE and ICC are committed to promoting ethical business practices and good governance for business organizations and for their members — from multi-national companies to small and medium-sized enterprises (SMEs). Regardless of a market's corruption perceptions and risk levels, businesses and the organizations that represent them can opt into ethical business practices through anti-bribery compliance and collective action initiatives. These voluntary Principles aim to support business membership organizations in their efforts to promote anti-corruption best practice throughout their members and markets. The Principles provide guidance on business ethics and anti-corruption compliance for all business organizations regardless of location, size, or membership model.
The Principles were officially launched on June 13 by Carlo Verona, Partner at Demarest and Vice President of the ICC Brazil Committee on Anti-Corruption during a plenary session on building fair and transparent markets for all. CIPE and ICC WCF developed this new resource with the unique risks facing business organizations in mind, and with feedback from business associations, chambers of commerce, and association governance and anti-bribery experts from around the globe, including Australia, Austria, Brazil, Colombia, Germany, India, Italy, Nigeria, Romania, Russia, Slovakia, Turkey and the United States. The Principles first establish two key obligations:
Business Associations and Chambers of Commerce, including their directors, officers, and employees, will neither commit nor tolerate corruption in any form;
Business Associations and Chambers of Commerce will implement an effective Association Compliance Programme to counter corruption.
These guiding tenets are followed by a description of the elements that make up an effective association compliance program. Part two outlines policies, procedures, and practices that associations should adopt in order to comply, and part three provides guidance on interactions with stakeholders. The document concludes with referencing additional anti-corruption resources.
The Principles were designed to set a minimum standard based on best practice rather than a particular anti-corruption law. Importantly, this tool complements the Governance Principles for Business Associations and Chambers of Commerce developed jointly by CIPE and ICC in 2011, as well as the ICC Business Integrity Compendium for enterprises that includes guidance on anti-corruption clauses, third-party due diligence for SMEs, and best practices for enacting a whistleblower policy, among others.
The development of this tool came from a clear desire and need from local business communities to contribute to building cultures of integrity and promoting good governance. Currently, CIPE is piloting a training curriculum that assists business association partners with implementation of the Principles. Stay tuned for updates!
Anna Kompanek, Director, Global Programs, CIPE
Louisa Tomar, Program Officer, Global Programs, CIPE