A Look at France's Duty of Vigilance Law, Two Years Later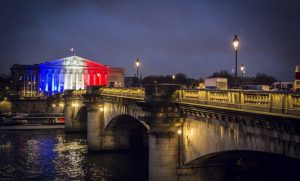 Total, one of France's largest oil and gas companies, is on the verge of being sued by dozens of French NGOs and climate activists for failing to meet its legal obligation to respond to the climate crisis. Groups such as Les Eco Maires have signed onto a June 2019 letter indicating that unless Total strengthens its vigilance plan to include appropriate action to "mitigate the risks and prevent serious harm resulting from climate change", they will file suit against the company. How did we get here?
Two years in, the impact of France's Duty of Vigilance Law is clearer than ever. The Law, unprecedented in its conception and enactment, seeks to address the unintended consequences of multinational corporations on societies and ecosystems by creating binding legal obligations for companies to follow, and providing space for victims to seek legal recourse should companies fail to comply.
This Law places the burden on large companies operating within France to identify and prevent risks to humans and the environment that could occur because of a company's business practices. Such activities include not only those of the company itself, but notably, those of its suppliers or subcontractors, and of companies they work closely with and/or control.
The Duty of Vigilance Law requires companies to design and implement publicly-available vigilance plans for which they can be held accountable. It is designed to improve the corporate social responsibility initiatives of companies, as well as aid victims of their crimes in gaining justice. Under the Law, any concerned party has standing to request that a judge compel a company to establish, implement, or publish a vigilance plan.
As stated by Sandra Cossart in a blog for the Business and Human Rights Resource Center, this law is not merely a formal recognition that "soft law principles and voluntary initiatives are insufficient"—it also translates into legal terms "the decisive influence of parent companies over their subsidiaries and their supply chain when it comes to preventing and remediating human rights and environmental violations."
Before it was passed by the French parliament, the final version of the Law was stripped of several important provisions, such as one that clearly shifted the burden of proof onto companies. After the law was passed, the French Constitutional Council struck down a provision of the bill that proposed civil penalties for companies that failed to develop a diligence plan. These alterations have served to hamper the strength of the Law's ability to compel corporate compliance. Nonetheless, two years after the passage of this law, communities, nonprofits, and other interested parties now have access to legal recourse which helps them to hold large multinational corporations accountable for human rights violations and environmental crimes committed by French companies, their subsidiaries, and those with whom they work with.
In 2024, Paris will play host to the Olympic Games, and French compliance professionals are determined to use the Law to guide their country's preparations for the 2024 games. La Cercle de la Compliance has introduced a campaign which they call "Compliance 24", the mission of which is to propose a detailed framework for the monitoring and the compliance of the Paris 2024 Compliance program, a framework which has the power to be stronger and more vigilant than ever before, thanks to France's Duty of Vigilance Law.
Since France's passage of the law, other European governments have taken steps to compel corporate vigilance over human rights. Recently, the Finnish government has announced plans to push for legislation which makes it compulsory for corporations to conduct human rights checks, while on May 14th, the Dutch Senate adopted legislation which asserts that companies have a "duty of care" to fight child labor in their supply chain.
Increasingly, companies are beginning to accept laws that center around corporate vigilance as the new norm in Europe. A growing number of corporations including Ikea, Coca-Cola, and BMW actively support this type of legislation, asserting that they provide legal certainty of their responsibilities and level the playing field for responsible businesses. Summing up the normalization of such laws, William Anderson, in-house council for German footwear megabrand Adidas, wrote in an article for Eureporter that "In short, it is not of a question of if, but when such laws will be in place and how they will impact current business operations and practices."
Caroline Kelly, Intern, CIPE's Anti-Corruption and Governance Center