Tipping Points for Successful Collective Action Expansion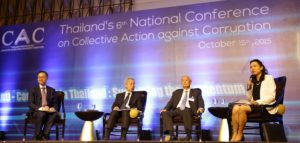 Corruption is one of the most challenging problems facing countries all over the world. It is difficult to imagine what successful eradication of this issue might look like, but we have learned it cannot be achieved by government alone. It requires an orchestrated effort by all stakeholders, including the local private sector to address the supply side of bribery.
Effectively tackling corruption and creating a clean business ecosystem requires the commitment by numerous companies to opt into a collective action campaign or coalition. Convincing companies to join anti-graft initiatives can be difficult, however Thailand's private sector Collective Action Coalition against Corruption (CAC) has tips for persuading companies to step up and make pledges against corruption. There have been three major 'tipping points' that triggered the healthy growth of this anti-corruption network:
Sectoral approach:
In addition to traditional recruitment efforts, CAC adopted a sectoral approach by reaching out to business membership organizations with the aim of convincing them to bring all their members together to sign onto the CAC pledge at the same time. This tactic proved most successful with business associations representing the financial sector, which is highly regulated in Thailand. Gaining the participation of the financial operators significantly raised the CAC's profile and credibility.
Sectors already under higher levels of scrutiny can prove most amenable to additional compliance initiatives.
Support from others:
Thailand's Securities and Exchange Commission (SEC) continuously encouraged listed companies to join CAC and required that a company's individual stock reports to investors include detailed information on commitment to anti-corruption efforts. In addition, the Thai Investors Association, an interest group representing retail investors, sent representatives to the annual general meetings of all listed firms to request that executives elaborate on their anti-corruption progress and provide relevant details regarding their CAC participation.
These activities applied additional positive pressure on companies to have quarterly or annual progress reports on their anti-corruption efforts.
Active 'supply' change agents:
Many CAC certified companies have undertaken substantial efforts to persuade their suppliers and third parties to adopt anti-corruption policies and install graft prevention mechanisms. A good example is auto parts manufacturer, Somboon Advance Technology PCL (SAT), which brought together 88 trading partners to collectively sign the declaration of intent with CAC in early 2016.
A company's supply chain is a source of enormous risk and can undermine the internal efforts to achieve compliance and certification. Proactively encouraging third-parties to implement anti-bribery policies and good governance practices is an important step in risk management.
As more CAC members take similar steps to persuade their business partners to embrace anti-corruption compliance, the number of transparent companies will multiply, and a clean business culture can materialize. Ethical business practices should have the added effect of attracting more foreign investment and interest from multi-national companies – also under great pressure to know their supply chains.
Phisanu Phromchanya is an advisor for Thailand's Private Sector Collective Action Coalition against Corruption