Hamzat Lawal: Leading Africa Anti-Corruption Activist Shares Online Media Strategy, COVID-19 Response
Connected Development (CODE) Chief Executive and Follow The Money (FTM) founder, Hamzat Lawal, recently sat down with CIPE's Anti-Corruption and Governance Center (ACGC) to share more about his story and anti-corruption efforts in Nigeria and across Africa. Lawal recently participated in ACGC's COVID-19 and Corruption event on June 24th entitled The Rapid Responders, a discussion highlighting how nimble anti-corruption NGOs are moving quickly to meet corruption challenges during the COVID-19 pandemic. This interview took place in July 2020 and has been edited for length and clarity.
---
Hello Hamzy! Can you start off by telling us more about your organization, Connected Development? 
Hamzat: Connected Development is an NGO that empowers marginalized communities with access to information. We do this using our social accountability movement called Follow The Money (FTM). FTM tries to answer where funds are coming from, where funds are going, and most importantly, how judiciously these funds are being utilized—particularly at the grassroots level.
We mobilize people, particularly young people, to do a lot of storytelling. First, we scrape data from trusted sources like news and media outlets and from government websites. We also invoke the freedom of information law that allows productive disclosure after scraping data. We've understood [there is a] difference between the data that we've accessed and what is obtainable on the ground. We go to these communities and check the data we have that has been provided by the media, the government or international aid institutions, like the World Bank, EU, and USAID. We put this data side-by-side, looking at what is obtainable on ground and as we do this, we also conduct needs assessments. We document voices on the ground and afterwards we do our analysis. 
We then organize a town hall meeting, like a community organizing meeting. We bring [together] the government and the private sector. These community meetings are held in [common spaces] or [at a] community building and we gather a lot of feedback from community members and [allow for] information sharing. Of course, we bring in the media to amplify what has been said. After that, we also do online and offline advocacy by engaging on Twitter. For every campaign we run, there's a hashtag so that we can keep a digital footprint. We [also] reach millions of listeners via radio, because again, when you look at data in Nigeria, a lot of people get firsthand access to information from radio.
We have built up public trust networks through online and offline advocacy as community members and governments have worked hand in hand. We're also doing this work where there is corruption. We collect perception indices and engage with government and community members to increase service delivery and close corrupt leakages.
Tell us more about the Follow The Money movement—how and where does it operate?
Hamzat: Currently we have about 15 weekly Follow The Money radio programs and FTM chapters in nine countries (Kenya, Cameroon, Malawi, Zimbabwe, The Gambia, Liberia, Uganda, Pakistan and Nigeria). We have reached about 80 million people from various regions. 
FTM is a homegrown initiative that started in Nigeria. [It is about] helping young people mobilize and we named the platform ifollowthemoney.org because we want every citizen to take ownership of the money. We have over 6,500 members and counting.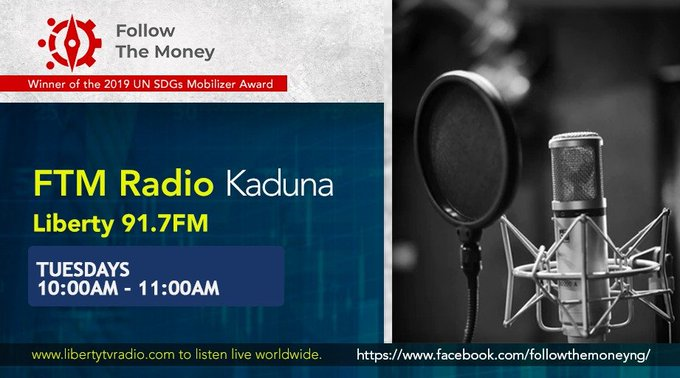 So Connected Development is not an umbrella organization, but is mainly focused on Nigeria's issues, is that right? 
Hamzat: Nigeria and Africa-wide. Connected Development provides the secretarial support for Follow The Money as a movement. Follow The Money is very organized [in] the way we transfer knowledge and mobilize more young people to use technology to document and amplify voices and hold governments to account. And Connected Development and FTM have one and the same Chief Executive, which is me.
Stepping back a little bit, we know you've been involved in anti-corruption work for about nine years. How did you get involved in this work? 
Hamzat: So I have been a campaigner from the time of the climate activism movement, going to Conference of the Parties (COP), young people leading campaigns, going on the streets for protests and rallies—even in New York, where we had the largest climate march. To be brief about my story, I started as a boy scout leader. So I was part of the scout corps and then the boy scout movement engaged in environmental campaigns and environmental cleanup. 
But how I innovated and started Connected Development and Follow The Money was in 2012. I was struggling to get data on how the government has responded to the plight of an ailing community in 2010 where there was reported lead poisoning that killed over 400 children below five years old. So in 2012, I was trying to get information from the Minister of Health, the Minister of Mines and Solid Materials, and the Minister of Environment. And no one was willing to give me this information [even though] the government had these millions of dollars. Resources were released [to] governments from international aid organizations and no one was willing to give me an account of how these resources were [being] put to use to save lives.
So I got on a bus going to this community, Bagega, which is in Zamfara state. Just to put this into context, from Abuja to Gusau is seven hours by road under 42 degrees centigrade (on the bus). From Gusau to Anka it is four hours – on a terrible road. From Anka to Bagega it is four and a half hours and you can only go on a camel, a donkey, a horse, or a motorbike. I rode on a motorbike, so [altogether] it took me close to eighteen hours to get to this community. 
The first thing I found out was that not a single cent of the millions of dollars that were released got to this community. I also found out that over 700 children had died—so [the death toll] was under-reported. And I found out that over 1,500 children below five years old were very sick due to lead contamination in their community due to [poor] access and the results of mining. So the wells, the water, and the air was polluted and these kids were on the verge of losing their lives. So what I did—with permission from community members—was I took pictures, I took videos, and I conducted interviews. And I collected feedback data from these community members. 
Then coming back to the capital city, we launched a campaign using the hashtag #SaveBagega. So that's how we started. In less than 48 hours it was a trending issue that got Al Jazeera, BBC, and CNN to amplify the community's plight, [as well as] local media. And then in less than 72 hours, then-President Goodluck Jonathan approved the sum ($4 million) that was needed. 
We then laid our hands on the budget. We simplified it into infographics and translated it into local languages. We used it to empower communities to understand what the government had approved, how the community added their voice, and prepared them to expect this special intervention. 
With that, we understood the politics of approval and releases. At every point of our campaign we were targeting the decision-makers themselves. We started visualizing and tracking the resources from Abuja from the Ministry of Finance to the line ministries to the community. We are tracking this with the bill of quantity and the spending proposal which is saying, okay, the government was meant to buy tractors and to employ laborers. 
So we're counting: How many tractors? How many hours are they putting in work? How many laborers? And the equipment that was procured and supplied. So that's how we monitored this for over six months and then the environment was successfully remediated 
Médecins Sans Frontières, from our reports, treated over 1,500 students free of charge. Government also procured mining equipment and today, the Bagega community even has an access route. So again, the Ministry of Works took our reports and provided the access route. Gavi took our reports and renovated the primary health care center in the community [to provide] vaccine and medical supplies. The Department of Water Resources [also] took our reports and provided an intervention.
So that's some of the outcomes and impact of our campaign from Bagega. And so far we've advocated for and tracked close to $200 million. Last year [alone] we saved our [Nigerian] government 50 billion naira ($113 million) from leakage.
Now FTM is a pan-African movement. We also collect data from the World Bank and all bilateral organizations when our governments collect grants, loans or credits and the World Bank, the IMF, and USAID have come to learn how we use technology [and] how we engage and how we ensure better service delivery. So that's a brief [summary] about how we started and how we've grown. 
Your approach using social media and digital platforms as your primary medium is unique. Can you elaborate a little more on why you decided to employ these platforms as opposed to more protest-based activism and anti-corruption movements that we have seen throughout the world?
Hamzat: We've learned a lot of lessons from protests—they have their own pros and cons. The thing about protest and confrontation is that you don't know the outcome and sometimes they can be hijacked.
So for us, using data, particularly evidence-based data collected underground, and also having dialogue and engaging with the government directly is essential. Equally important is manag[ing] public perceptions and having them see us as partners in achieving progress, which has really helped and gone a long way. 
We've also identified that sometimes the government does not have the capacity [or] don't even know how to respond. [We see that] the government leverages our own feedback to provide interventions. That's why we are more strategic in engaging the government, being cognizant to inviting them for our town hall meetings. We have about an over 90% attendance rate from the government when we host those town hall meetings and they use our reports and feedback. So I think for us, because we came from that activism movement, engaging in street protest and engaging in confrontation, we've learned a lot of lessons.
We always say to fight corruption you can't be confrontational because you're dealing with government people who control state institutions, and most of them [can] intimidate you and harass you because corruption also fights back.
So we became creative leveraging technology by mobilizing more voices because we believe in the collective power of one voice and numbers. So if you go on our Twitter feed, for instance, we mobilize a lot of young people to build that credibility over the years and push intelligent credible content, and also get government feedback and get the government to act in most of our campaigns.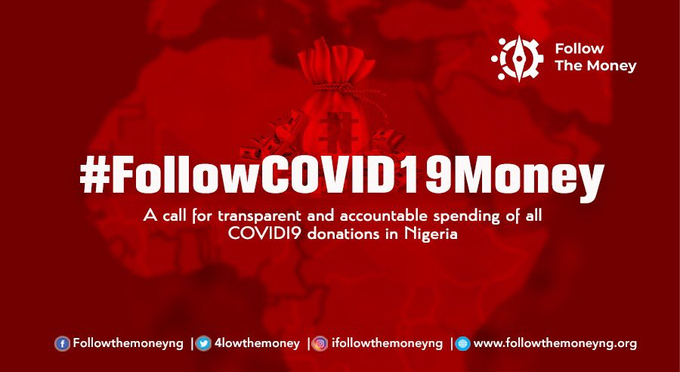 To what degree do you think government responses to COVID-19 are creating opportunities for anti-corruption reforms? Is there currently a window of opportunity with the ongoing pandemic?
Hamzat: So in the context of Nigeria and a few other African countries, we're growing our digital accountability campaign called #FollowCOVID19Money. We see COVID-19 as an opportunity where we can ensure proper reform, engage in open government partnership and ensure beneficial ownership, document budget spending, etc. 
But from the context of Africa and Nigeria, COVID-19 has now unfortunately provided an opportunity for corrupt public officials to "skim the milk" where right now the government is not providing adequate information on conditional cash transfers given to poor households. It's just an opportunity for the government to leverage the fact that weak institutions cannot adequately respond and also use public and state resources to enhance their own personal greed and hand out contracts to their cronies. 
For instance, there's no data regarding open contracting on COVID-19 procurement. The reports we have received from The Gambia was that in less than two days the president approved a contract of $2 million to one of their cronies, without tender and without advertisement. Again, this is what we're seeing across many African countries and that's why there's distrust right now between the government and the people. That's why people in some African countries still think COVID-19 is a hoax. 
You've talked about how there's no information about how this money is being spent. You also said in another interview that in the U.K., when the government has committed public resources, there is a website where you can see where the money's coming from and where it's going. Is there nothing of the sort happening in Nigeria, and is that also the case across Africa?
Hamzat: Yes, that's exactly what's happening, not just in Nigeria, but across most African countries. As we speak, we've written a Freedom of Information request to (Nigeria's) Attorney General, the Minister of Finance, the Minister of Information, the Presidential Task Force on COVID-19 and so far none of them have responded. 
Interestingly, we wrote to the Minister of Water Resources because they're the ones providing wash services to poor communities and yesterday we received a response asking for an additional thirty days. The law states that they have seven days to respond. This shows that the government itself is not even collecting data, that they're hiding something, or that they're not even doing the work that they claim to be doing. If you are the government, with the resources you have, you should be able to give us the information in seven days. As the CEO of FTM I can tell you what all of our 6,500 campaigners are doing with [our] resources. Yet the government, with the opportunity to access millions of dollars to do their work, cannot even provide real time information. 
And our worry is [about how] the data is informing government response, government policies and decision making [on] COVID-19. This is our plight and our frustration. Socio-Economic Rights and Accountability (SERAP), which is one of our partners, is taking the government to court regarding [their responses to] COVID-19 and are asking the president to give authorization for his ministers to provide spending data because the data we have are just data around donations and budgets—we still don't have spending data yet. So it's really frustrating. 
In Nigeria and in The Gambia, for instance, our report has inspired public hearings. Yet while the Minister of Health (in The Gambia) can publicly acknowledge that there is grand corruption happening, he cannot do anything about it because it comes from the very top. If the president can award contracts without due process, what can the minister do? What can he say when the president himself is complicit to corruption? It's mind blowing what we're experiencing now during COVID-19 throughout the continent in regards to grand corruption.
If you look at some of the guidelines to access IMF loans for instance, it talks about publishing spending and providing timely information in the government portal. When you look up the portal, you [can] see [that] the government has paid millions of naira into personal accounts. However, they are not even providing data on what service or good this person has supplied or provided to the Nigerian people or to this government entity, so there's a lot of discrepancy. In Nigeria, we also have an audit commission bill that the president has not yet signed that gives power and independence to the Auditor General of the country to undertake public interest audits and publish their findings. Right now some government entities have not been audited for some over five years. As for the ones that have been audited, you cannot even get your hands on these reports. So what kind of system or what kind of governance structure do you have? We say we are practicing democracy but COVID-19 has really exposed that we're just providing lip service to most of these issues.
Do you believe that there would be an opportunity for reforms to occur if enough people know about the current mismanagement? Do you think there's going to be a fallout from what's happening right now and the choices that the government is making about how this money is being spent or not being tracked?
Yes, we believe that the more people are aware and informed, the more it will help mobilize citizens to add their voice. The next election in Nigeria will happen in 2023, and we believe that some of the debates may focus on the government's mismanagement of COVID-19 resources.
Just look at what happened in Malawi where the major opposition recently won the rerun election because previously the government was using state institutions, suppressing voices and abusing the rights of citizens. It could be a similar fallout when we go to the polls in another two and a half years [in Nigeria] as citizens may revolt at the ballot box and elect another party to power. There's also another long-term effect where citizens are losing more and more trust in democratic governance every day. And without public trust, any policy or intervention the government wants to implement will never be successful because public trust is key to being able to achieve anything.

Are there any examples of success stories right now? 
Hamzat: Yes, we've achieved a few successes. In Malawi and in Zimbabwe, for instance, we obtained data from the government on the numbers of tests being conducted and even helped governments use technology like Google Maps to assist their efforts. 
With contact tracing in Nigeria, we've also used data to get the government to provide aggregated data around COVID-19 incident reports. Our campaign and pressure has also gotten the government to start providing a breakdown of resources that they have gotten, but they've not provided a breakdown of what they spent before because before now we didn't even have data on how much money government agencies have accessed for their COVID-19 responses.
With that said, there has now been an increase in pressures [on government] and we've also seen a lot of interest from community members, [including] various traditional and religious leaders. We believe that as we progress in our COVID-19 campaign, we'll see more results, more progress, and get concrete feedback, which will result in more transparency on the part of the government.
Is there anything else you would like to share that we haven't discussed yet?
Hamzat: We believe that the Open Government Partnership could be the game changer, particularly focused on subnational governments because the real change happens at the grassroots level [because] that's where you have millions of citizens. We believe the subnational piece of national strategy engaged in local government and state government could help enact much needed reform around open government and transparency in Nigeria and other countries.
---
Image Credit: CODE/JIDE OJEDIRAN