Corruption Case Highlights Growing Political Divide in Bangladesh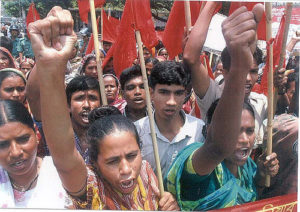 Photo Credit: Derek Blackadder via Flickr
On Thursday, February 8th, a Bangladeshi judge convicted Khaleda Zia, the head of the opposition Bangladesh Nationalist Party (BNP) of embezzlement and corruption, sentencing her to five years in prison. Zia has been charged in 37 different incidents over the course of the three decades she's been in politics, including her two stints as Prime Minister of the country, from 1991-96 and 2001-06. This most recent case is very significant – a sentence of five years could potentially render her ineligible for running for office, as the Bangladeshi Constitution prohibits anyone sentenced to over two years of jail from participating in elections.
While the ruling Awami League Party has proclaimed this case as a victory for the justice system, Zia and other BNP representatives have suggested this trial is politically motivated. International human rights organizations and other political analysts have expressed concerns that this case may just be another move in the battle for political power between Zia and her opponent, current Prime Minister and head of the Awami League, Sheikh Hasina. The two, commonly referred to in Bangladesh as the "Battling Begums", (Begum is a South Asian honorific given to high stature Muslim women), have alternated as Prime Minister since the restoration of civilian democratic rule in 1990.
Yet many argue that both have routinely sought to subvert the rule of law to strengthen their own political position and discredit the other. Zia's second term in office saw Bangladesh ranked as the world's most corrupt country for five years running, while since returning to power in 2009, Sheikh Hasina has used elements of state power to hollow out the opposition.
Despite the array of forces seemingly up against her, including highly public anti-corruption efforts in the region, Khaleda Zia is expected to appeal the verdict. Unfortunately, this also means that the related political crisis is expected to drag on, possibly throughout the electoral period, meaning that the worrying trends of political polarization, violence, and shrinking space for political discourse are expected to continue.
Extrajudicial killings and forced disappearances under the pretext of counterterrorism is being used to round up political dissenters and silence criticism of the ruling government. These trends have extremely worrying implications for the democracy, especially as elections, scheduled for December 2018-January 2019, loom on the horizon. The previous elections in 2014, were boycotted by the BNP, in part due to accusations of corruption against Zia. Dozens died in riots and violent protests leading up to, during, and directly after those elections.
This year looks to be no different. On February 3rd, BNP leadership declared it would boycott the elections again unless it is held under a neutral "caretaker" government. In response, the government has arrested more than 1,100 BNP leaders and activists this week. As tensions show no sign of dissipating, commentators on both sides are expressing concerns that this unfolding political crisis is weakening moderates and strengthening the position of those advocating violence, whether it be against the government or the opposition.
Thwarting bribery and graft is needed to strengthen Bangladesh's economy and judiciary, yet a peaceful and widely accepted electoral process is paramount to stability and depoliticizing any gains in the fight against corruption.
Vivek Shivaram is an Assistant Program Officer for South Asia at CIPE