Combating the Maritime Corruption Conundrum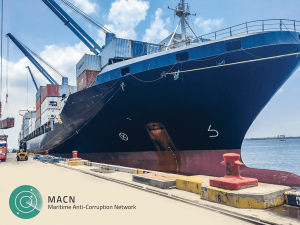 People tend to think about corruption as a problem constrained to a country's borders, its neighbors, or other nearby countries. Even a corrupt customs service, for example, has little direct influence beyond the country of origin and the destination market. Maritime corruption, on the other hand, spans the globe.
The importance of maritime trade cannot be overlooked; currently, 90% of global trade is transported by sea. The maritime industry is critical for efficient global trade, and so, corruption in the industry is a global challenge. Maritime trade is often complex, involving multiple parties from many different countries. Corrupt practices in one port affects every business that wishes to perform activities in or out of that port, both foreign and domestic.
In Nigeria, for example, hundreds of businesses use the country's ports every day. For instance, nine out of ten port users report port agents who are requesting bribes. Every year, corruption in Nigerian ports reduces customs revenue by an estimated $1.9 billion and costs the private sector an estimated $8.1 billion. These costs disincentive private investment and harm companies using Nigerian ports. The worst costs, however, are felt by Nigeria's economy, which loses out on potential foreign direct investment.
Maritime Anti-Corruption Network Efforts
The Maritime Anti-Corruption Network (MACN) is the leader in fighting maritime corruption, and, like CIPE's Collective Action Against Corruption project in Thailand, it is a prime example of how the private sector can combat corruption through collective action. Founded in 2011, MACN is a global business network comprised of over 100 members from across the maritime industry. MACN is facilitated by Business for Social Responsibility (BSR), an NGO focused on assisting private business in addressing global challenges. MACN is governed by a member-elected steering committee.
MACN is comprised of and receives its funding from vessel-owning companies, cargo owners, and service providers. MACN members share a concern about the large effects of maritime corruption on global trade, and they work together to address the issue.
MACN's work is organized according to the organization's 3C's:
Collective action by members to push for changes to the operating environment;
Capacity building for members to help them combat and report corruption; and a
Culture of integrity to help raise standards of doing business among the members.
These 3C's were designated as the guiding pillars for MACN's projects in accordance with MACN's research on the maritime industry's needs, as well as the United Nations Sustainable Development Goals. MACN has been able to achieve moderate to large amounts of success in the maritime industries of countries including Nigeria, Indonesia, Egypt, India, and Argentina. MACN also works directly with partners on the ground in each country.
The members of the MACN have recognized the severity of maritime corruption and have taken steps towards addressing it, but the problem is far from solved. Corruption is pernicious and complicated. However, the MACN has still been able to make significant strides. Some of these strides include integrity training of over 1,000 port officials on, the creation of standard operating procedures, and the port services support portal.
These measures have helped to enable collective action and improve the integrity of Nigerian ports. Corruption is deeply ingrained into processes of Nigerian ports so MACN measures have not completely alleviated the problem of maritime corruption in Nigeria, but they have made a significant dent in the issue and the group continues to improve upon their already effective efforts. This is why the Center for International Private Enterprise (CIPE) is excited to have to opportunity to evaluate MACN efforts and to use the findings to help enhance our own approach to using private sector collective action to combat corruption.
Blake Moss is an intern with CIPE working on an anti-corruption research project focused on corruption reporting mechanisms in Nigerian ports.