Rapid Response Podcast: the New USAID Taskforce Tackling Transnational Corruption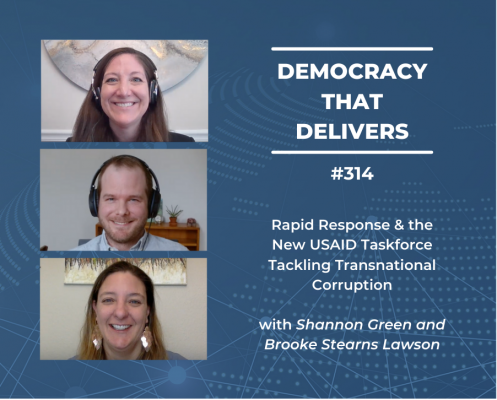 In this episode of Democracy that Delivers, host Peter Glover, Program Officer for the Anti Corruption and Governance Center at CIPE, welcomes two leaders in the global fight against corruption. Shannon Green serves as the Senior Advisor to the Administrator and Executive Director of the Anti-Corruption Task Force at USAID, and Brooke Stearns Lawson serves as the Task Force's Lead on Innovation, Research, and Learning. In this discussion, Green and Lawson explain why the world has entered an unprecedented moment for democracy and anti-corruption work around the world. USAID has seized the opportunity for anti-corruption programming by announcing a new USAID Grand Challenge focused on combatting transnational corruption. This episode is the latest in a mini-series on the topic of anti-corruption rapid response.
Click here to listen to the full episode.
Want to get in touch with USAID to share ideas? Email challengecorruption@usaid.gov.