Zuma Ousted as South Africa Aims to Move Ahead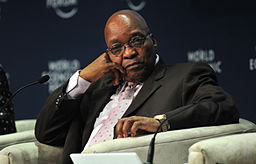 Photo Credit: Wikimedia 
Since his election as President of South Africa in 2009, Jacob Zuma has been a controversial figure, mired in numerous corruption scandals. Even before Zuma took office, corruption plagued him. In 1999, an associate of his was arrested and convicted of bribing him in a $5 billion dollar arms deal. Zuma, the "people's president," got a pass for his role in the scandal. It took seventeen years for the Supreme Court to rule that the 18 counts of corruption pertaining to the arms deal would be reinstated.
Similarly, in 2016, the Court declared that Zuma had used government funds to renovate a private housing compound for himself, called Nkandla. The fact that Zuma used taxpayer money and was ordered to repay the government, which he did, should have been evidence enough that he was not fit to serve, but Zuma carried on as president for two more years. Zuma's misdeeds eventually caught up to him in February 2018 when the South African Parliament declared a motion of 'no confidence' against him; he resigned on February 14th.
In addition to the original allegations of money-laundering, racketeering and theft of public funds, Zuma has been accused of 'state capture', where private interests shape and influence the public policy process for private gain. Deputy Finance Minister, Mcebisi Jonas claimed he was offered the Finance Minister position by the Gupta brothers, powerful businessmen with strong ties to Zuma, provided he make certain personnel changes within the department. Jonas declined and was replaced by a friend of the Guptas, Des van Rooyen, who immediately resigned just four days later due to severe economic instability. The Sunday Times later reported that van Rooyen then went on a Gupta funded vacation to Dubai immediately after his resignation, and was subsequently reassigned to the Minister of Cooperative Governance and Traditional Affairs, an agency tasked with, among other things, "promoting good governance, transparency and accountability."
The Zuma and Gupta cases are prime examples of the governance gaps that the Center for International Private Enterprise (CIPE) aims to address in countries across the globe. CIPE's newly established Anti-Corruption and Governance Center is geared towards combating corruption to prevent the immense negative affects it has on the local economy and rule of law. This is through private sector coalitions against bribery, good governance awareness and reforms in state-owned enterprises, and civil society monitoring of public procurement, to name a few. CIPE seeks to tackle the many facets of corruption by engaging governments, local business communities, and civil society groups to hold one another accountable.
Zuma's charges and convictions combined with the Gupta's alleged crimes not only destroy faith in the government and sabotage foreign investment in South Africa at a time when Cape Town is facing a serious crisis, but also undermines the overall progress South Africa has made towards becoming a vibrant democracy. The fight against corruption in South Africa does not end with Zuma's departure – indeed fighting a culture of corruption and impunity takes several years, if not entire generations. Everyone from dedicated civil servants, to citizens and civil society organizations, to the private sector, has a role to play in creating a more transparent and accountable democracy that delivers for all.
Richard Christel is the Anti-Corruption/Conflict fellow at CIPE and Louisa Tomar is a Program Officer for Global programs at CIPE