Will El Salvador's Anti-Corruption Commission Define President Bukele?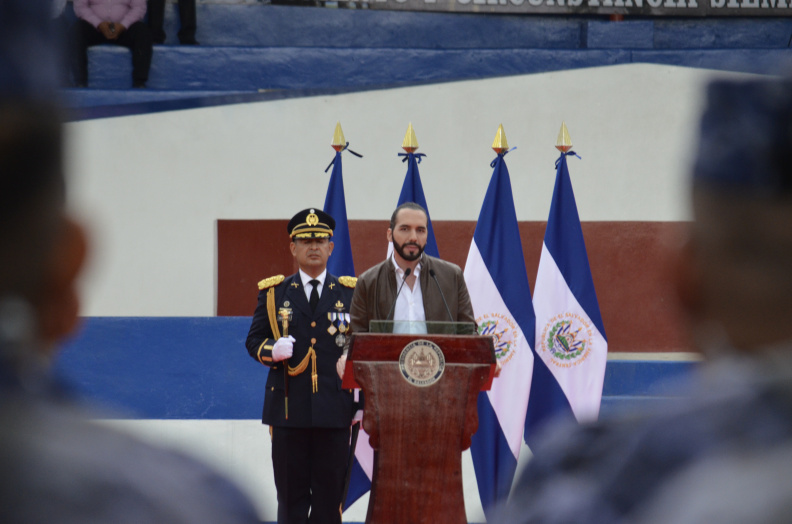 The fate of El Salvador's new anti-corruption commission is in doubt. Its biggest friend or most challenging foe will be the politician who founded it two years ago: El Salvador's 39-year old populist president Nayib Bukele.
Bukele rose to power on an anti-corruption platform aimed at correcting the abuse that has haunted El Salvador's recent politics. In the past 20 years, two presidential administrations have been stained by high-profile corruption scandals. Mauricio Funes, president from 2009 to 2014, was charged in 2020 for laundering over $350 million. Funes' predecessor, Antonio Saca, is currently serving a ten-year prison sentence after he diverted $4.4 million of state funds into his personal account. As a result, Bukele's campaign promises to put an end to corruption struck a chord with Salvadoran voters that propelled him to victory in 2019. 
After taking office, Bukele quickly established the International Commission Against Impunity in El Salvador (CICIES), an anti-corruption agency backed by the Organization of American States (OAS). Formally launched on September 20th, 2019. The agency's framework agreement gives El Salvador and the OAS joint appointment power of the CICIES Commissioner, currently Ronalth Ochaeta, who presides over other commission officials and contractors.
CICIES's official objective is to "support, strengthen and actively collaborate with the institutions of the Republic of El Salvador charged with preventing, investigating and punishing acts of corruption and other related crimes." These crimes may include those related to "public finances, illicit enrichment, money laundering, and national and transnational organized crime, in non-limiting terms."
Glass Half Empty?
In its present form, CICIES acts as an advisory committee rather than a fully-fledged anti-corruption agency like Indonesia's KPK. It lacks the authority to investigate or prosecute individuals or officials and has no mechanism for collaborating with the private sector. The commission's founding documents emphasize its role to "cooperate with the institutions of the Salvadoran State in strengthening their capacities to prevent and combat corruption and impunity" and "assist national efforts in the legal prosecution of…corruption and other related crimes." 
In an uphill climb to curb corruption, El Salvador's new commission is a baby step. Its narrow authority has meant the commission can only indirectly support investigations and enforcement by other government departments like the Attorney General of the Republic. CICIES also lacks the legal legitimacy of being ratified by El Salvador's legislature. In 2019, Bukele established the commission by executive decree to make good on his campaign promise. 
El Salvador has much to gain from a stronger and more independent anti-corruption commission. Corruption is deeply entrenched in many of the country's institutions. El Salvador is ranked 108th out of 180 on Transparency International's most recent Corruptions Perception Index. 
Weak enforcement institutions also need strengthening. An investigation by Deutsche Welle found that impunity, or exemption from punishment, had reached nearly 90% of the cases brought to court by the attorney general's office from 2013-2018. Commenting on the study's findings, Eduardo Escobar, Executive Director of local NGO Acción Ciudadana, said "what we find is an institution with a weak capacity for crime investigation…Out of 10 cases prosecuted, the Prosecutor's Office obtained [just] two convictions." 
An impotent anti-corruption agency advising El Salvador's underperforming justice system seems unlikely to make a difference. Yet despite its shortcomings, CICIES made headlines when it played a key role in a raid led by the attorney general's office to collect previously undisclosed information about public spending during the pandemic.
CICIES 2.0
The commission's work with the attorney general, while encouraging, was still an isolated incident during its two-year history. Meanwhile, civil society groups have been pushing for a stronger, more independent anti-corruption agency. In the fall of 2019, a group of non profit organizations collaborated on a bill to strengthen CICIES. The new bill would require government institutions to transparently cooperate with CICIES on matters like finances. The commission would also gain the ability to investigate and participate in prosecution alongside the attorney general.
The bill received some vocal support from government officials and legislators. Members of Arena, El Salvador's leading right-wing party until the most recent election, showed staunch support for strengthening CICIES's authority even though it would mean granting the commission power to investigate Arena itself. The current Attorney General, Raúl Melara, said he would take no issue with a more autonomous CICIES. "If the Legislative Assembly establishes that the CICIES must be reformed, that it must be improved, that it must be endowed with new tools…we cannot be against it," Melara said. However, the bill did not make it to a vote during the last legislative session.
Bukele's Legacy
If President Bukele were to support a strengthened CICIES now, virtually nothing would stand in his way. He is probably the most popular president in Latin America. Recent CID Gallup polls show that around 95% of Salvadoreans approve of his performance. Moreover, in El Salvador's legislative elections at the end of February, Bukele's allies won a two-thirds majority. 
With it, Bukele now has the power to appoint supreme court justices and leaders of the independent attorney general's office without relying on votes from the opposition. Furthermore, with a ready-made bill to strengthen CICIES already drafted and a commanding majority in the national assembly, fulfilling his campaign promise to boost his government's fight against corruption could be easily done.
However, Bukele has so far shown little interest in strong anti-corruption policy. Many commentators describe his leadership as increasingly authoritarian. He has consolidated his power over El Salvador's armed forces and recently ignored a ruling of the Supreme Court. Last February, Bukele marched soldiers into the national assembly to intimidate legislators who were opposed to a loan needed to finance a new national security plan, a move that evoked the military dictatorship that ruled El Salvador for almost half a century until 1979.
Furthermore, when Bukele set out to establish an anti-corruption agency, he opted for the weaker of the two plans offered to him. Before the OAS recommended an advisory agency, the United Nations (UN) delivered a proposal for a commission in which "autonomy and independence [were] essential elements." After receiving the OAS proposal, Bukele immediately moved forward with a partnership without giving the UN a response. This act, coupled with the president's poor communication with the legislature and the attorney general, have led some to believe that the installation of the CICIES was a media ploy to boost Bukele's popularity during his first 100 days in office. 
Critical Juncture
President Bukele could silence such criticism by championing anti-corruption now. If there was ever a window of opportunity for meaningful reform addressing El Salvador's deep corruption problems, it would be while a reformist government holds almost all the levers of government as Bukele's does today.
Since Bukele made good on his election promises by creating CICIES, the new commission has only participated in one meaningful anti-corruption project in a junior partner role to the attorney general. While a bill to strengthen CICIES was floated in the last legislative session, Bukele focused his attention elsewhere and has taken worrying moves to undermine efforts by the other branches of government to keep him in check. Turning away from anti-corruption reform now would be deeply unfortunate. Yet there is still time for Bukele to prove his mettle as an anti-corruption reformer, and for civil society groups to encourage his powerful government to act now on El Salvador's deep-seated corruption problems.
---
Image Credit: Wikimedia Commons