Armenian Chamber Launches First-Ever Anti-Corruption Policies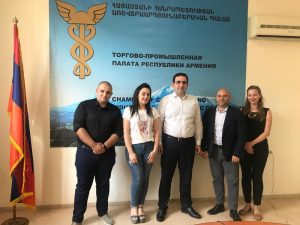 The Armenian Chamber of Commerce and Industry recently took a historic step in adopting its first-ever anti-corruption policies, affirming the Chamber's commitment to honest and fair competition, business integrity, and operational transparency. CIPE has engaged with the Chamber through the Business Advocacy Network since 2008 and sees this new step as evidence of the private sector's growing role in combatting corruption in Armenia.
The policies were inspired by the recently-published Principles on Combating Corruption for Business Associations and Chambers of Commerce, a collaboration between CIPE and the International Chamber of Commerce. In July 2019, CIPE Global Program Officer Louisa Tomar traveled to Armenia to hold the first pilot workshop on the principles prior to their official launch. The workshop was combined with a session on anti-corruption risk assessment led by Lyndon Allin of Baker McKenzie.
Five staff members from the Chamber attended the workshop, which focused best practices for chambers and associations to identify and reduce corruption risks in their operations. During the workshop, Tomar led participants in an anti-corruption self-assessment, noting that a values statement and code of conduct can create the foundation for a more robust anti-corruption program. Although Chamber staff expressed that they considered ethics and integrity to be part of their culture, they had never put their commitment to business integrity in writing or formally conveyed it to the whole staff. By the end of the month, the Chamber had developed both a values statement and code of conduct, and published the values statement on its website.
In September, the Chamber took stock of its integrity risks and addressed them in a new business ethics and anti-corruption policy, adopted by the Chamber's board of directors on September 28. The board also expressed its support for the Chamber to continue promoting anti-corruption conduct and practices both internally and within the greater business community.
CIPE is enthusiastic about the opportunity to support the Chamber as it takes the next steps in this process. In spring 2020, CIPE will launch a new initiative that will focus on building support for, and understanding of, anti-corruption standards within the Armenian business community. The Chamber's leadership in adopting new ethics and anti-corruption policies sets an encouraging example for the continuation of this work.