Rapid Response Podcast: Suliman Baldo's Report from Sudan's Historic Transition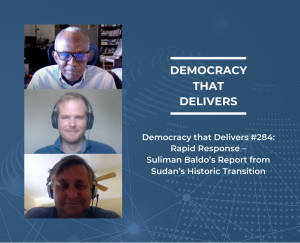 In the latest episode of our Anti-Corruption Rapid Response podcast mini-series, Suliman Baldo, a Senior Advisor at The Sentry and a long-time peace and democracy advocate, shares his experiences and perspectives working to advance democracy in Sudan. At the moment, Sudan is undergoing a once-in-a-generation political transition following a massive–and peaceful–grassroots movement in 2019. Baldo analyzes the current window of opportunity in Sudan, the challenges facing the transitional government, the newly announced anti-corruption commission, and speaks to the big social changes affecting the country. Baldo is joined by CIPE Communications Director Ken Jaques and Anti-Corruption & Governance Center Program Officer Peter Glover.
Listen to the full episode here.