Compliance and Competitiveness in Pakistan: Interview with SAMI Pharmaceuticals Director Junaid Shamim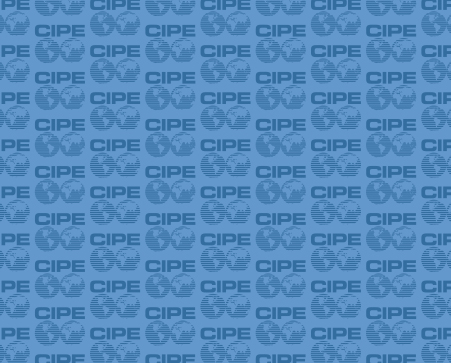 The word "compliance" in Pakistan took on a whole new meaning in 2014 when key Pakistani exports won tariff-free access to the massive European Union market. That new status, known as the Generalised System of Preferences plus (GSP+), is linked to the implementation of 27 international conventions including labor rights, sustainable development, and good governance. In the sophisticated Pakistani pharmaceutical market, some local firms are increasingly looking to export not only to the EU but other highly regulated markets like the U.S. One such firm is SAMI Pharmaceuticals (Pvt) Limited, based in Karachi, where CIPE's Frank Brown interviewed Director Junaid Shamim.
How has Pakistan's pharmaceutical industry – and SAMI specifically – positioned themselves to compete globally?
Pakistan is very fortunate to have had its own pharmaceutical industry since its formation in 1947. Over the years, manufacturers invested heavily in this industry to bring in the latest technology to Pakistan in order to compete globally as well as dominate the local market. Companies here are now trying to enter into regulated markets and few companies are already in process of obtaining WHO (World Health Organization) approval.
In this context, SAMI has also spent heavily over the years not only in acquiring latest tools and machinery but also on creating a technically sound and equipped manpower. Our new facility is constructed using European technology, taking into consideration all the internationally acclaimed benchmarks. The conceptual design is made with a view to getting WHO accreditation and then moving forward to getting FDA (U.S. Federal Drug Administration) certification.
Obviously our aim of getting these certifications is to enter into global arena.
Stringent regulatory compliance – including the anticorruption compliance in the USA and Europe are definitely an uphill [battle] for some companies. However, the rewards of entering are far more of a motivating factor.  It is also worth mentioning here that huge inspection fees are required to be paid if any company wishes to get such certifications in order to get entry into highly regulated countries. There is literally no incentive from government to encourage companies to get such certifications.
When it comes to improving Pakistan's corruption environment for businesses, has the government started playing a more constructive role?
Government has lately taken a few steps in regulating the manufacturing and selling of drugs in Pakistan. Formation of the DRAP (Drug Regulatory Authority of Pakistan) is one of the key steps towards it. Moreover, the Competition Commission of Pakistan (CCP) was also established as an independent body to prevent malpractice and corruption. However, there are still lot of areas where the Government's active role is necessary to bring positive change in the business environment.
At the moment businesses have to pay huge taxes, duties and regulatory fees. Burdensome and lengthy custom clearance requirements are also leading to losses to companies. Moreover, the cost of land and doing business in Pakistan is also very high due to the economic condition of our country and its constant hyper-inflationary environment.
Furthermore, drug pricing policy is also an area of headache for pharmaceutical manufacturers as no logical and prudent policy has yet been finalized.
For local Pakistani vendors and suppliers, a big motivator for wanting to reduce corrupt practices appears to be religious and ethical concerns. Have you observed this?
Pakistan is an Islamic state and most of the businesses are running here keeping in view the moral values set by our religion. There is a general consensus among human beings about certain fundamental ethical values and every religion emphasizes this. Likewise, Islam places the highest emphasis on ethical values in all aspects of human life and teaches us not only to be good to other Muslims but to be good to whole of humanity and even to animals.
Yes, most of us firmly believe if the religious morals are strictly followed then the malpractices in business can be curtailed drastically.
Frank Brown is a Program Officer for Eurasia and Value Chain/Anti-Corruption Program Team Leader at CIPE.