What Works in Anti-Corruption: A Podcast with Alina Mungiu-Pippidi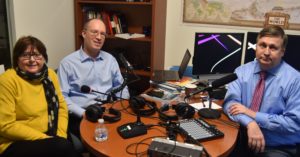 Photo Credit: CIPE
During the 2018 spring meetings at the International Monetary Fund (IMF), Managing Director, Christine Lagarde announced the IMF's commitment to anti-corruption and governance reforms, potentially a marked change from the IMF's long-standing policy of staying apolitical in matters that do not appear to directly affect macroeconomic stability – scandals from Moldova to Venezuela suggest that corruption does, and always has.
There is plenty of skepticism around this announcement and how the IMF might enforce governance reforms. Many will be watching the impact of the ongoing pressure the IMF has placed on Ukraine to establish an independent anti-corruption court. This nudge from the Bank is a powerful motivator where anti-corruption standards have failed, yet it still may not be enough for all of the country's officials to embrace reform and reject lucrative personal payoffs. Top-down approaches to fighting corruption are one piece of this complex puzzle however they tend to have serious limitations, especially in state-owned sectors.
So what works when it comes to anti-corruption reforms?
CIPE advisor and Professor of Democracy, Alina Mungiu-Pippidi at the Hertie School of Governance in Berlin, Germany was also in town during the spring meetings. Earlier she had sat down with Frank Brown, Director of CIPE's new Anti-corruption and Governance Center and Ken Jaques, CIPE's Communications Director, to discuss her research findings. Mungiu-Pippidi argues that entrepreneurs, even in highly corrupt environments, can become effective champions of anti-bribery coalitions and demanding accountability from government in order to level the playing field.
The anti-corruption community must remain vigilant and prepared to support these local reformers even as central governments manage the macroeconomic impact of graft, under the watchful eyes of the IMF. There is much to learn from Mungiu-Pippidi's research in the fight for good governance and accountable government, have a listen below:
Alina Mungiu-Pippidi chairs the European Research Centre for Anti-Corruption and State-Building (ERCAS) and is the author of several books on the topics of anti-corruption, governance, state-building, and democratic transitions.