The Price We Pay: What Does Corruption Cost?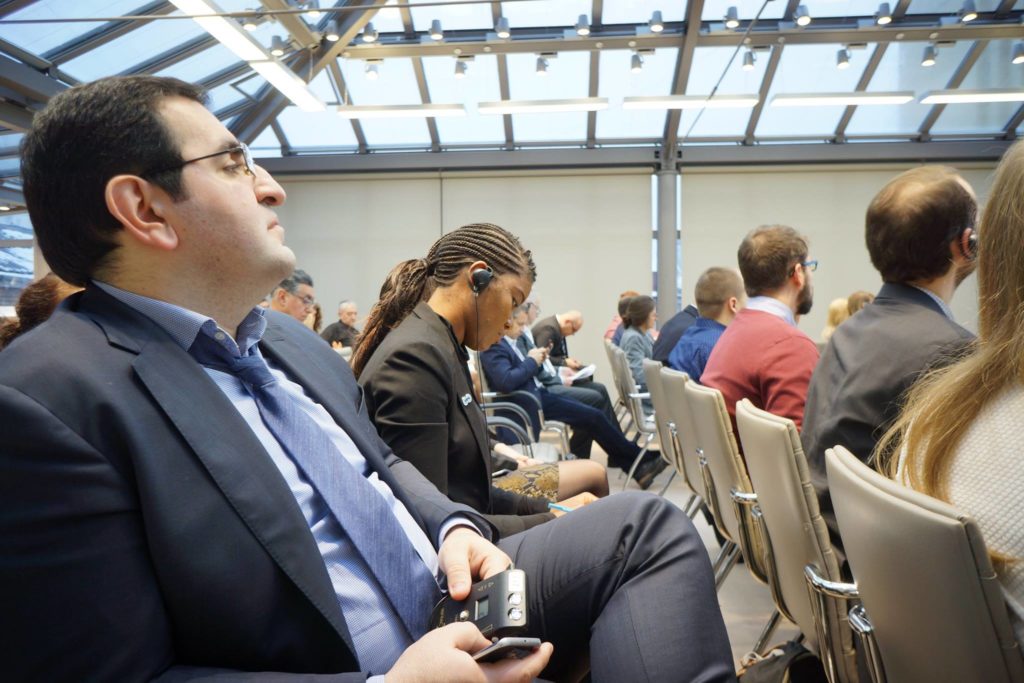 Photo credit: CIPE
By Caroline Elkin, Program Assistant with CIPE's Europe and Eurasia team.
On December 5, CIPE hosted the Private Sector Collective Action to Counter Corruption Summit in Kyiv, Ukraine. The event gathered participants from business, government, civil society, and international organizations, representing Armenia, Kazakhstan, Moldova, Nigeria, Thailand, Turkey, Ukraine, and the United States, among others. This is the second in a series of blogs based on the summit. 
In the past ten years, the OECD, World Bank, IMF, Transparency International and leading scholars have published dozens of empirical studies showing how corruption, in its different shapes and forms, negatively affect every economic parameter. Worldwide, all citizens – not just businesspeople – are subject to a "corruption tariff" that makes buying and selling goods and services more expensive.
How do you measure the effects of that tariff? Numerous studies and investigative reports have revealed the financial value of bribes paid within a specific sector or infrastructure project. In many of the best-known examples, the price also can be measured in people's lives lost due to shoddy construction, unenforced safety standards, and the like.
A panel at CIPE's Summit in Kyiv set out to explore the costs imposed by corruption. The discussion not only illuminated the corruption tariff on the construction sector in Ukraine, but also provided a thought-provoking look into the ways we talk about corruption, challenges in communicating about it, and how to tell whether anti-corruption efforts are sincere or sinister.
One panelist, a Ukrainian businessperson, described corruption in the country's construction sector. Due in part to the collapse of several banks after the Revolution of Dignity, residential housing is perceived as a safer place to invest one's savings: Ukrainians annually put over one trillion euro into their apartments and homes. But today they are subject to an effective tariff of $20 per square meter in bribes, damaging both quality and safety. The complexity of working in construction may be one reason for this: one needs to gather 57 documents, go through 15 procedures, and have about as many instances of face-to-face interaction with officials to get permission to own and use a plot of land, said the panelist.
However, as a representative of the Business Ombudsman Council pointed out, that story does not reflect the steps Ukraine has taken to counter corruption since the revolution (including by establishing the aforementioned Council, which is supported by the European Bank for Reconstruction and Development). While perceptions of corruption may have changed little, a report by a Kyiv-based research organization found that Ukraine's anti-corruption efforts have netted about $6 billion in the past four years, for example, by closing tax loopholes and introducing an e-procurement system. At the same time, the construction industry anecdote indicates that Ukrainians continue to pay the corruption tariff.
Both perspectives have merit. Governments, civil society, and businesses can take genuine steps to counter corruption even as the costs it imposes remain the same or increase in the short run. Communicating the impact of such steps therefore requires addressing both perception and reality to navigate apparent contradictions.
The ensuing debate at the Summit was vigorous and thus valuable and refreshing. The speakers and participants from an audience of about 30 disagreed enough to lead to a meaningful discussion, in which the speakers conceded their possible biases and the weaker points of their arguments. This is rare in any formal setting. In a world where surface-level or politically motivated anti-corruption efforts are too common, such debate is a fair sign that the efforts are real: few backers of insincere reforms would be willing to discuss their merits and failures publicly. For all the difficulties facing anti-corruption efforts in Ukraine, the dialogue that took place at this panel of the Summit is a good model for other countries.
Finally, the conversation underscored that, while we can measure the perception and cost of corruption and the results of fighting it, no number will tell the whole story. Different indices will report different results, which will be of varying relevance to readers based on their priorities. An explicit price tag makes for attention-grabbing headlines but, in its enormity, can be too big to wrap one's head around. Numbers are necessary, but case studies and stories that highlight the human impact of corruption are equally helpful in drawing attention to the price we pay.