The IMF Joins the Fight against Corruption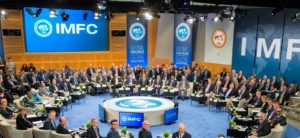 Photo Credit: Thai E- News
The International Monetary Fund (IMF) made its first major updates to its policy towards corruption since 1997. This update is largely viewed as a response to Transparency International's (TI) letter on anti-corruption compliance shared at the Civil Society Townhall during the IMF's 2017 Annual Meetings. The IMF published a new framework on anti-corruption compliance and promised engagement with all its member countries during a roundtable call on July 2nd.
During the July 2nd meeting, the IMF also stated a new commitment to including evaluations of corruption in member countries in the reports produced by staff. This significant shift in policy demonstrates an explicit acknowledgement of corruption's macroeconomic impact. Two existing examples of this approach can be seen in the latest lending agreements with Argentina and Ukraine.
For observers, it remains unclear whether the IMF will limit lending due to widescale public graft and corruption. "To refuse to lend because of a corrupt country environment is tough, but the IMF has that sort of leverage, and it seems that management at the fund is taking corruption compliance more seriously," commented Richard Stern, a retiree of the World Bank and current President of the Partnership for Transparency. Although it is hard to imagine the IMF would cease lending to any member due to a specific instance of corruption, it should influence the terms of the loans and create new pressures on borrowers.
"The Fund's strengthened anti-corruption approach is long overdue," wrote Frank Vogl, co-founder of Transparency International and the Partnership for Transparency Fund, in an article for The Globalist. "Research shows that corruption robs global GDP every year of 1.5% to 2.0%. Lagarde says major fiscal management problems arise from demands for bribes for public procurement contracts that end up enriching public officials and agents and boost final costs of deals by an average of 35%."
The IMF appears ready to systemically address corruption by establishing a methodology for assessing impact, however this tool will not be made public in order to preserve flexibility. The new guidelines are not meant to rank countries against one other or create a false sense of precision in identifying instances of corruption, but rather to forge a conversation and a participatory approach to fighting corruption.
Moreover, the IMF will begin consulting third parties such as nongovernmental organizations (NGO), civil society organizations (CSO), and partner organizations such as The World Bank to navigate issues of corruption in a nuanced way with a broad coalition of stakeholders. Vogl points to Ukraine as an example of a significant test case, "it would be impossible to resolve Ukraine's solvency crisis without a major assault on graft… the IMF worked with civil society to promote establishment of a new and independent anti-corruption agency and the appointment of a special prosecutor."
The IMF also announced its commitment to addressing the supply side of bribery by auditing developed countries' corrupt activities in less-developed countries. This should further encourage enforcement of extraterritorial anti-bribery laws like the United States' Foreign Corrupt Practices Act, and so far the G7 countries plus Austria and the Czech Republic have volunteered for auditing. Simultaneously, private sector leaders have a role to play in holding themselves – through implementing anti-corruption compliance programs – and government authorities – through monitoring capital flows, accountable.
"This sort of cultural shift takes time. The IMF is late to the game, however, it is a very important piece of the puzzle on the macro level, which other international institutions are not able to supply," commented Stern. Indeed, the IMF is a welcome partner in the fight for public integrity and good governance.
Nikta Khani is a Middle East & North Africa fellow at the Center for International Private Enterprise (CIPE)
Louisa Tomar is a Program Officer for Global Programs at the Center for International Private Enterprise (CIPE)