Is this Moldova's Moment?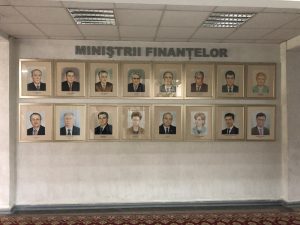 The Republic of Moldova is at a turning point, one of many it has faced since emerging in 1991 as an independent country from the former Soviet Union. Optimism is running higher than usual that the country may beat back rampant corruption that, in some years, has resulted in massive fraud leading to a 12 percent loss in GDP. A new coalition government of both Western- and Russian-oriented parties took power earlier this summer, promising swift implementation of anti-corruption reforms.
All this was on display during a visit in late July, when the usually sleepy capital of Chisinau was alive with anti-corruption workshops, press conferences, declarations, and endless speculation about what direction the country would take in pursuing the prime minister's commitment to 'de-oligarchization.' Reformist prime minister Maia Sandu, who took over in June, was staking her future on dismantling the formal and informal structures that had allowed one oligarch to dominate the country of 3 million.
On paper, Moldova is primed for success. It would seem to have all the necessary ingredients. The National Anticorruption Center is well staffed with a clear mandate to investigate. The National Integrity Authority is empowered to vet officials' asset disclosures and unmask conflicts of interest in procurement. There is no shortage of foreign anti-corruption experts fresh from the successes, failures, and lessons learned in Georgia and Ukraine, two other former Soviet republics further along than Moldova in the fight against corruption. In addition, Moldova has good laws, an e-procurement system ready to launch, and the resources and mentality that come from decades of foreign assistance.
But, despite all that, a significant improvement in the coming months is far from assured. For one thing, the government of Maia Sandu and her Western-oriented ACUM political alliance may not survive in their coalition with a Russian-leaning party lead by socialist Igor Dodon. Another challenge is motivating the populace to prioritize corruption over bread-and-butter economic issues that tend to dominate in one of Europe's poorest countries. By some estimates, about 400,000 working age Moldovans are living in the West with an equal number residing in Russia. This further complicates the problem, as nearly one third of the country is literally absent.
For those of us working at the Anti-Corruption & Governance Center housed at the Center for International Private Enterprise (CIPE), Moldova is a fairly typical example of the challenges we face in deciding where to deploy CIPE's anti-corruption resources. There is no doubt that Moldova would benefit from immediate assistance in strengthening whatever anti-corruption tools the new government chooses to rely upon. The problem is that the government has yet to make a clear choice. Their caution is understandable given the need to rid key institutions like the National Anticorruption Center of obstructionist officials or those with divided loyalties. Still, the more time that passes, the less faith voters will have that Sandu's agenda is worth backing.
Despite all these challenges, it is heartening to hear Sandu continually prioritize the fight against corruption. "On the issue of corruption, this is the biggest challenge. We have to build institutions. At the same time, we have to show progress," she told European Union officials in Brussels on July 24. That same week in Chisinau, she personally presided over a series of public and closed-door sessions designed to clarify and highlight her government's position on anti-corruption reforms. At one point, she offered a sober assessment on how to proceed, acknowledging that her time in power may be short lived. "We must act in compliance with the law, without going too fast and creating precedents that can be abused in the future."
Frank Brown, Director, Anti-Corruption & Governance Center, CIPE