Corruption and COVID-19: Articles, Blogs, and Resources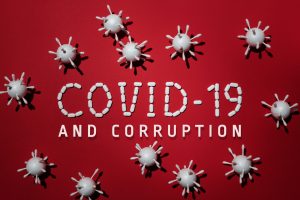 Compiled by the staff of the Anti-Corruption & Governance Center, this list of publications and resources may be of use to the global anti-corruption community. The newest entries are bolded at the top of each section. We welcome your suggestions for additional articles, reports, and resources on this issue. Note: last updated on May 26, 2020.
---
Opinion & Position Pieces
Massive COVID Spending Could Unleash Surge of Scams, Experts Warn
On Pandemics and Other Demons: Coronavirus-Related Corruption and How to Prevent It
Top 10 International Anti-Corruption Developments for April 2020
Fighting Corruption in the Time of COVID-19
OAS: Minimize Corruption Risks, Excessive Use of Emergency Powers During COVID-19 Crisis
Conducting Anti-Corruption Investigations During the Pandemic
Democracy Must Not Become the Silent Victim of the Coronavirus Pandemic
Free Enterprise & Democracy Network Statement on COVID-19 Response & Recovery Planning
Anti-Corruption in COVID-19 Preparedness and Response
Corruption Risks in Southern Africa's Response to the Coronavirus
Latin America's Next Generation of Authoritarians Is Using COVID-19 to Consolidate Power
We Can't Stop the Coronavirus Unless We Stop Corruption
IMF COVID-19 Loan to Nigeria
Preventing Corruption, A Priority During COVID-19
Western Balkans Media During COVID-19: Reporting on Corruption Became Even Harder
Advisory Note: COVID-19 and Corruption in the Pacific
IMF: Empower Civic Groups Against COVID-19 Corruption
How the IMF is Promoting Transparent and Accountable Use of COVID-19 Financial Assistance
How Asean Countries Can Turn the Tide on Corruption
Compliance in Times of Crisis: Risk Mapping
The OECD Working Group on Bribery Responds to COVID-19 Bribery Risks
COVID-19: Democracy, Human Rights, and Governance Issues and Potential USAID Responses
Look Out, Corruption Ahead
Are We Asking the Right Questions? The Role of Transparency During COVID-19
Reforming the Response to Financial Crime: Making the Most of a Crisis
Financial Criminals See Opportunities as Europe Reels from Virus
Corruption Costs During Humanitarian Crises & Mitigation Strategies for Dev Agencies
The Links Between Corruption and Coronavirus
What Is Open Contracting? Emergency Procurement for COVID-19
Open Response, Open Recovery
Can Past Experiences Help Prevent Corruption Related to COVID-19?
COVID-19 Pandemic: GRECO Warns of Corruption Risks
Corruption Can Have No Place in Our COVID-19 Recovery
IMF: Make COVID-19 Funds Transparent, Accountable
Here Today and Gone Tomorrow? Private Sector Integrity and Anti-Corruption Post COVID-19
Why Tackling Corruption Is Crucial to the Global Coronavirus Response
UK Anti-Corruption Coalition – COVID-19 Statement
Illicit Financial Flows Will Be Easier during the Coronavirus Pandemic
Corruption in the Time of COVID-19: A Double-Threat for Low Income Countries
Corruption Could Cost Lives in Latin America's Response to the Coronavirus
Crime, Corruption, and Coronavirus
COVID-19 and the Coming Corruption Pandemic
To Defeat Coronavirus, Stop Corruption
The Coming Corruption Pandemic and Other Commentary
Corruption Present Bonanza for Kleptocrats
Coronavirus Sparks High Risk of Corruption in Latin America
Country by Country
(Thailand) NACC Implements Preventive COVID-19 Corruption Risk Mapping Project
(Ukraine) Anti-Graft Bureau Probes State Tender for Medical Suits
(Bosnia and Herzegovina) Imported Ventilators From China Useless for COVID-19
(Poland) Health Minister Denies Cronyism After Buying "Useless" Masks From Family Friend
(Italy) Bribery Probe Nets Sicily Coronavirus Response Chief
(Saudi Arabia) 117 COVID-19 Graft Probes Launched During Ramadan
(Australia) Integrity Commission Delayed Again Amid Fears of Coronavirus Response Corruption
(Bolivia) Health Minister Held for 'Ventilator Corruption'
(Ukraine) Anti-Corruption Banking Law Passes to Secure IMF Deal 
(Malaysia) Graftbusters Probe Contractors Amid Abuse Allegation for COVID-19 Kits, PPE
(Panama) Deputy Minister Resigns After Respirator Purchase Scandal
(Serbia) How Activists Started a Nationwide Anti-Corruption Protest During Lockdown 
(Azerbaijan) Another District Head Arrested Over COVID-19-Related Corruption
(Ukraine) COVID-19 Pandemic: Fertile Ground for Corruption?
(Bosnia and Herzegovina) Corruption, Political Blockages, Threaten Efforts to Weather Virus
(Kenya) Coronavirus: Fearing 'Money Heists' Amid Pandemic
(Nigeria) Coronavirus: Corruption in Health Care Could Get in the Way of Response
(Pakistan) COVID-19: 'Green Stimulus' Scheme Is a Win-Win for Environment, Unemployed
(Germany) Coronavirus: Caught Up in Multi-Million-Euro Mask Fraud Scheme
(Ghana) NDC 'Rejects' Airbus Bribe Probe To Focus On COVID-19 Fight
(China) Critic Who Called Xi A 'Clown' Over COVID-19 Crisis Investigated
(Israel) Two Thousand Israelis Brave Coronavirus Fears to Protest Assault on Democracy
(South Africa) Cape Gangs in Lockdown
(Indonesia) Open Fiscal Data Can Boost Trust in Pandemic Response
(Thailand) Seven Held in Four Mask Fraud Cases
(Guatemala) Health Officials Fired, Investigated for Corruption
(Iran) Containing Corruption in Key to Economic Recovery
(Malta) Firm Sold Disposable Masks as "Advanced" Coronavirus Protection
(Australia) Coronavirus Chaos "Increases Corruption Risk," ICAC Warns 
(Latvia) Anti-Corruption Force Warns of Heightened Graft Risk
(Canada) Lifts Freeze on Military Exports to Saudi Arabia Amid COVID-19 Pandemic
(Saudi Arabia) Senior Officials Arrested on COVID-19 Related Corruption Charges
(Iran) Coronavirus: Top General Peddles Fake Bomb Detector as Tool to Fight COVID-19
(Romania) The Convict and Coronavirus: Million-Mask Mess
(Burkina Faso) The Confluence of Conflict, Corruption, and Coronavirus
(Kenya) Don't Take 'Unclean' Money for COVID-19 Fund, urges KNCCI
(Africa) Policy Lessons from COVID-19
(Slovenia) Opaque Coronavirus Procurement Deal Hands Millions to Gambling Mogul
(Ukraine) Coming: Rapid Government Response to COVID Scheming
(Brazil) Coronavírus: sem licitação, Mandetta paga 67% a mais para comprar máscaras
(Italy) Storia dell'azienda agricola scelta per fabbricare le mascherine anti coronavirus
(Italy) Coronavirus, i retroscena dell'appalto Consip di mascherine vinto da un pregiudicato
(Colombia) Insumos COVID-19
(Chile) CM para emergencias, contingencias y prevención
(Uganda) Corruption, Lack of Rule of Law Will Be the Death of Uganda
(Uganda) COVID-19: Officials Face Jail Over Food Prices
(Iran) Amid Pandemic, Report Highlights Theft, Corruption, Hoarding in Pharma Sector
(MENA) Corruption Risks in MENA Region Threaten National Responses to COVID-19
(China) Beijing's Viral Disinformation Activities