Building Foundations: Countering Corruption in Difficult Environments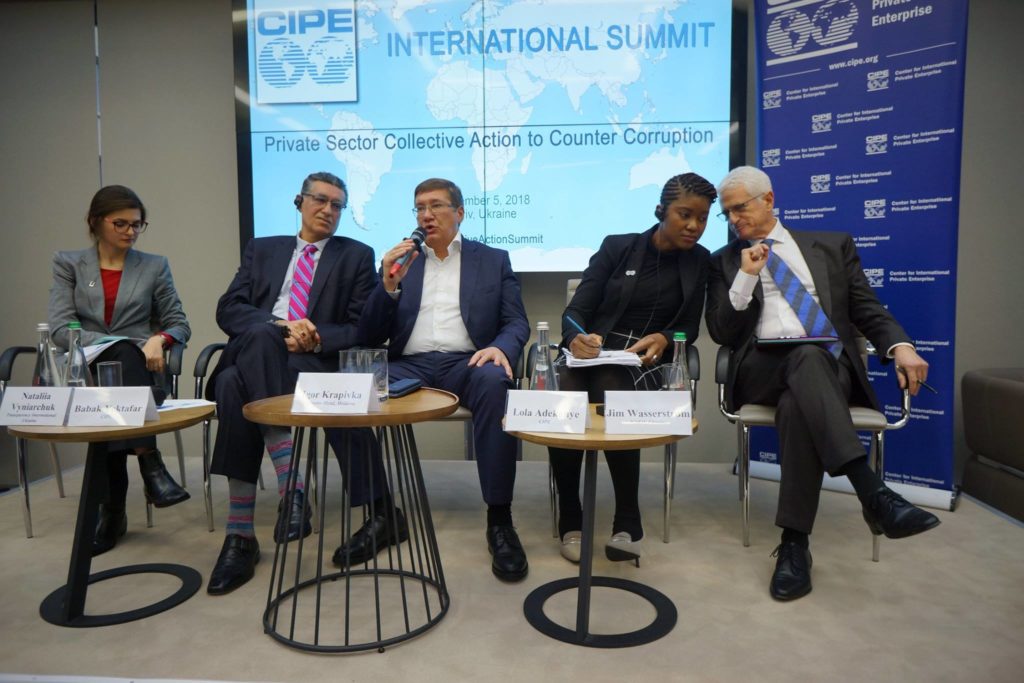 Photo credit: CIPE
By Caroline Elkin, Program Assistant with CIPE's Europe and Eurasia team.
On December 5, CIPE hosted the Private Sector Collective Action to Counter Corruption Summit in Kyiv, Ukraine. The event gathered participants from business, government, civil society, and international organizations, representing Armenia, Kazakhstan, Moldova, Nigeria, Thailand, Turkey, Ukraine, and the United States, among others. This is the first in a series of blogs based on the summit. 
When you think of an anti-corruption activist, what comes to mind? Perhaps it's someone you follow on Twitter, or a civil society organization that focuses on unearthing politicians' corrupt acts.
These figures make real contributions to the fight against corruption. They attract public attention within their own country and from abroad. They push the envelope by challenging political elites. But in countries at war, with repressive regimes, undergoing post-conflict reconstruction, or undergoing financial crises, it is nearly impossible for individual activists acting alone to achieve change.
As Alina Mungiu-Pippidi's work highlights, despite the growth of the "anticorruption industry," few efforts have succeeded. When these efforts bring about positive change, they tend to be bottom-up, driven by motivated local actors, and invoke the principle of collective action. In particular, Mungiu-Pippidi points to entrepreneurs and businesses as key drivers of change. These players have strong incentives to operate cleanly and demand a level playing field from the government. They also have a clear set of common interests, or, in other words, a basis for forming like-minded coalitions.
One panel at CIPE's recent summit discussed collective action in challenging environments. These may be conflict and post-conflict zones, where the "business of war" exacerbates corruption, just as various types of authoritarian, repressive, and oligarchic regimes foster corruption . Somewhat less obvious, but still difficult, are countries that lack investment or are suffering financial crises, and places undergoing post-disaster reconstruction. Broadly speaking, these are places where institutions are weak, and rule of law is selective.
Each environment merits a tailored response, yet the academics, anti-corruption experts, and private sector representatives on the panel underscored broadly applicable lessons that centered on the need to build processes and trust. Indeed, a characteristic of many difficult environments is the destruction of societal trust (such as an authoritarian regime that forces citizens to inform on one another).
Lessons shared at the panel include:
Business organizations, which cannot risk their own assets by pushing the envelope, should focus on technocratic approaches that are less threatening compared to the "name-and-shame" method.
There is safety in numbers: build broad and strong alliances not only among certain types of businesses, but also, based on country context, with other civil society organizations and even allies within the government.
In places where any independent organization is perceived as a threat, first build platforms for collective action, such as business associations, before taking on corruption. Low interpersonal trust will make this process difficult. Yet taking on this challenge will lay the groundwork for (re)building trust more broadly.
Seek to establish interactions between citizens and government in the form of regular oversight and monitoring of government spending or regulatory reform, paying taxes, and so on. These help to create social contracts. Doing so may require taking a step back: for example, if employees responsible for registering new businesses instead pocket the fees as bribes, it may be necessary to start by identifying the real number of SMEs in a city to determine the potential tax base.
None of these ideas will eliminate entrenched corruption on their own, nor are they meant to be slapped on to any difficult environment. Many require long-term investments in building organizations and shaping attitudes. There are no quick wins in the face of entrenched corruption. But through collective action, institutions, and trust, allies in the fight against corruption can build foundations for meaningful change.