Armenia is Due a New Due Diligence Report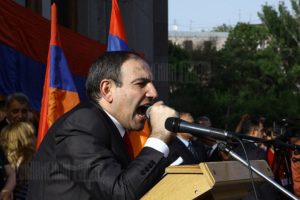 Photo Credit: PanARMENIAN
"In Armenia there is now no corruption," boldly declared newly elected Prime Minister Nikol Pashinyan. While this is an exaggeration, early, anecdotal evidence shows that corruption in Armenia has decreased since Pashinyan's Velvet Revolution this spring. This means investment in Armenia may be less financially and legally risky from corruption. Western companies may want to take a fresh look at potential Armenian partners and business opportunities in the country.
Major corruption indexes have not yet quantified these changes. Data from 2017 and 2018 show that corruption in Armenia posed a significant problem to businesses. Nearly a quarter of survey respondents admitted to paying a bribe in 2017, on par with the world average. For years, multiple corruption ratings for Armenia have stagnated close to the average for Eurasia. Observers should watch these indexes over the next year to see if evidence of reduced corruption emerges.
Over the last decade Armenia enacted modest reforms, improving its anti-corruption laws and limiting citizen and business contact with government, which theoretically decreased the risk of corruption. However, a 2014 OECD report and a 2015 Transparency International report both concluded that despite government initiatives, actual corruption had not decreased. Real change would come by reducing monopolies and enforcing anti-corruption laws, the reports recommended.
Those are exactly the problems now being tackled by Pashinyan, who set fighting corruption as one of his highest priorities the day he was elected. "Not one official that makes corrupt, clan-based decisions and accepts bribes should sleep well… Corruption is a cancerous tumor, which for many years has squeezed the lifeblood out of Armenia," the former journalist said in May.
A little over a month later, Pashinyan pronounced the strategically important country of 3 million to be corruption free, aside from some isolated incidents. He attributes this success to an "anti-corruption atmosphere" and the fact that now "the highest echelons of power are not involved in corruption." It is certainly too soon to declare a victory over corruption, but it is encouraging that Pashinyan's approach, enforcing existing anti-corruption laws, is in line with the OECD and Transparency International recommendations.
In several high-profile cases Pashinyan has demonstrated that he intends to hold everyone accountable for corruption, even war heroes. Local business association leaders that partner with CIPE say that customs officials are no longer accepting bribes. They also report that entrepreneurs are now happy to pay taxes given multiple cases of Armenia's rich and powerful being forced to pay theirs. Generally, the business community is highly optimistic, according to CIPE partners.
There is reason to hope for sustainable success. CIPE partners write that the public, including those who came of age in the Soviet Union, are supportive of the reforms, as are NGOs. Armenia is now implementing the Updated Comprehensive and Enhanced Partnership Agreement with the European Union. The Agreement mentions corruption 27 times and commits Armenia to following OECD recommendations verified semi-annually. Concerns that the government is too inexperienced to implement such are reforms are partially addressed by the government's apparent willingness to allow reform-minded elements of the private sector to take a leading role, according to CIPE partners.
Local businesses are hungry for information, as shown at a recent roundtable in the capital, Yerevan, to discuss the Armenian-language version of Anti-Corruption Compliance: A Guide for Mid-Sized Companies in Emerging Markets by CIPE. The forward to the guide states that before the revolution, business buy-in was majorly lacking, but in "the new Armenia…unreal may be made real." 22 out of 29 respondents to a survey after the event indicated that they would be interested in follow-up engagement. The guide emphasizes that the ability to work with international enterprises is one of the main benefits of anti-corruption compliance programs. With increased implementation of such programs by Armenian companies, the country could become a more attractive place for corruption-adverse international companies to invest.
Katrina Keegan is a fellow for Eurasia Department at the Center for International Private Enterprise (CIPE)